California court: Workers can choose not to take breaks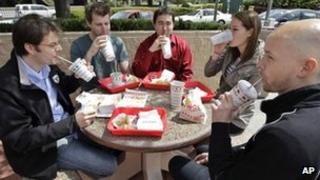 Businesses should not be obliged to enforce lunch breaks for employees, the Supreme Court of California has said.
The judges ruled unanimously on a case in which workers argued that workplace abuses were common and employers were required to allow meal breaks.
Workers filed the lawsuit nine years ago against the owner of restaurant chain Chili's, saying that missing breaks violated California law.
The court said it was unenforceable and should be left to workers.
While businesses do have an obligation to give their employees half an hour off for meals, workers have the choice to spend that time as they wish - and that includes continuing to work, the court ruled.
"The employer is not obligated to police meal breaks and ensure no work thereafter is performed," Associate Justice Kathryn Werdegar said in the court's opinion.
The court did not, however, dismiss claims of meal break violations and said those charges should be re-argued in regular courts.
The lawyer representing the workers said individuals or groups of workers could also file so-called class-action lawsuits on the issue. In some cases, class-action cases can include thousands of people.
But a representative from Brinker, the Texas company against whom the case was filed, said the most important issue in the case had been resolved.
"It has been allowed for our team members to work through lunch if they want or take the time off instead, and this ruling allows our team members that flexibility," Executive Vice President Roger Thomson told the Associated Press news agency.
In 2001, California imposed a financial penalty against companies who did not observe rest laws for their workers. It required that employers paid one hour's wages to employees who missed a 30 minute break.