Ten men and six women deny Ohio Amish haircut attacks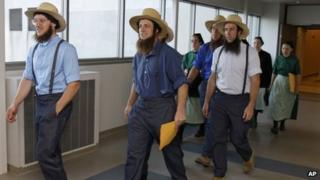 Sixteen Amish women and men charged with beard- and haircutting attacks against fellow Amish have pleaded not guilty in an Ohio court.
The six women and 10 men are charged with hate crimes motivated by religious differences, conspiracy and assault.
The suspects are also accused of trying to destroy evidence, including shears, a bag of hair and a disposable camera.
Prosecutors say the attacks were part of a feud directed by a breakaway Amish bishop, Samuel Mullet.
The updated indictment also alleges that Mr Mullet lied to federal officials.
Seven denied bail
The judge set the trial for 27 August. The accused face up to 10 years in prison if found guilty.
Four new female defendants appeared in court on Thursday: Lovina Miller, Kathryn Miller, Emma Miller and Elizabeth Miller. They were charged with the attacks last month.
According to court records, they are married to some of Mr Mullet's nephews and are members of the Amish community in Bergholz, eastern Ohio.
Joseph Dubyak, one of the defendant's lawyers, said seven of the accused, including Mr Mullet, were still being held without bond.
He also said that extended families were helping out as the planting season began.
"They planted the oats and they are getting the corn ready," Mr Dubyak said.
"They are all pitching in, they are all working together. They have somebody conducting their religious services."
Mr Mullet told the Associated Press in October that he did not order the attacks, but did not stop his sons and others in his group from carrying them out.
The Amish leader said in the interview that he had wanted to send a message that the others should be ashamed for the way they had treated his group.
Many Amish believe that the Bible instructs women to wear their hair long and for men to stop shaving after marriage.
Ohio has an Amish population of about 61,000 - second only to Pennsylvania.
Jefferson County Sheriff Fred Abdalla told journalists that Amish communities in the area had been left terrified by the attacks.
Within the Amish community, punishments are often decided internally and crimes are rarely reported to the police. Some of the victims of the attacks had refused to press charges.