Canada cruelty charge over cull of huskies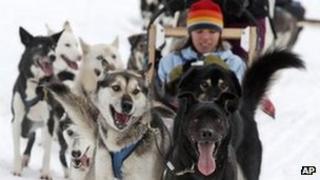 A man who admitted killing more than 50 dogs in the western Canadian province of British Columbia has been charged with animal cruelty.
Robert Fawcett ran a company offering dog-sled tours but its business slumped after the 2010 Winter Olympics.
He killed the huskies by shooting them or slitting their throats.
One of the dogs is said to have survived and crawled from a mass grave near the ski resort of Whistler a day later.
British Columbia's criminal justice branch said that Mr Fawcett - who ran Howling Dog Tours - faces one count of "causing unnecessary pain and suffering" to dozens of sled dogs in April 2010. He is due to appear in court next month.
The killings became public after Mr Fawcett won a compensation award for post-traumatic stress as a result of the killings.
He said in his claim that he had been told to cull the dogs when business slumped after the winter Olympics.
However, Outdoor Adventures Whistler - of which Howling Dog Tours was a subsidiary - denied having anything to do with the cull.
The dogs were reportedly killed as hundreds of other huskies looked on.
After the killings came to light, the government of British Columbia introduced new legal protections for sled dogs.