Mitt Romney eyes clean sweep of five primaries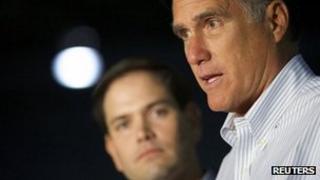 Voting has ended in four of five Republican presidential primaries, as Mitt Romney prepares for a key speech.
He is aiming for a clean sweep in New York, Pennsylvania, Connecticut, Delaware and Rhode Island.
Popular Florida Senator Marco Rubio has been campaigning with Mr Romney, fuelling running-mate speculation.
Meanwhile, Newt Gingrich will "re-assess his candidacy" if he does not win Delaware, a recent focus of his campaign, Mr Gingrich's daughter said.
Jackie Gingrich Cushman told MSNBC that her father's campaign was still winning over voters who did not support Mr Romney, but that Delaware's result would be a turning point.
The former House of Representatives speaker is the only Republican to have campaigned in the state, but without opinion polling it is unclear if he stands a chance against Mr Romney there.
Mr Romney is cruising towards the 1,144 delegates he needs to become the official Republican nominee who will challenge Democratic President Barack Obama in November's general election.
Romney-Rubio 2012?
The former Massachusetts governor has been the party's presumptive nominee since his closest rival, former Pennsylvania Senator Rick Santorum, dropped out of the race earlier this month.
Mr Romney currently has 698 delegates, according to an AP count, and there are 209 more up for grabs in the latest round of primaries.
Romney campaign aides said he planned a speech on Tuesday evening in New Hampshire that would focus on the forthcoming general election campaign against President Obama.
Mr Romney was forced to appeal to the right-wing during the thick of the primary battle, but he has already begun to manoeuvre towards the centre ground.
On Monday, he indicated he was open to a wider range of immigration policies, including a proposal from Mr Rubio that could see US visas offered to some young immigrants.
Senator Rubio campaigned with Mr Romney on Monday in Pennsylvania.
The first-term Cuban-American senator is considered a potential pick for vice-president because of his conservative stances and strong support from the growing US Latino community, most of whom currently back President Obama.
In a rare show of agreement with President Obama, Mr Romney also expressed support for a temporary extension of lower interest rates for student loans - a policy opposed by House Republicans.
Mr Obama has set out on a three-state college tour to advocate that position, in what correspondents view partly as an attempt by his re-election campaign to appeal to the young voters who turned out enthusiastically for him in 2008.
The president's approval rating has increased to 50% in recent days , after spending most of the past three months in the mid-40s.
Mr Romney would not be drawn on Monday about who might be his running-mate, telling reporters in Aston, Pennsylvania that the process was still "just at the very early stages".
Last week Mr Rubio may have let slip his ambitions for the job when he said at a forum: "If I do a good job as vice-president - I'm sorry, as senator - I'll have the chance to do all sorts of things."
Long-shot Republican candidate Ron Paul, a Texas congressman, is also still in the Republican race. He told NBC TV on Monday that he would not step aside even if Mr Romney locked down the nomination.