Supreme Court 'sceptical' of immigrant law challenge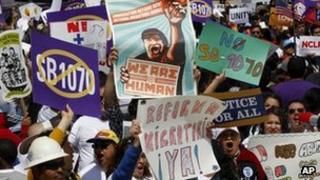 Justices at the US Supreme Court have heard arguments in the case of a controversial state immigration law.
Their questions to both sides appeared to be sympathetic to a key provision of Arizona's SB 1070's law.
"You can see it's not selling very well," Justice Sonia Sotomayor said, as the government sought to portray a stop-and-produce ID requirement as an over-reach of state power.
A decision on the politically sensitive case is expected in late June.
A ruling is also due from the justices over a multi-state challenge to the Obama administration's healthcare act. Both cases are seen as divisive issues in the upcoming presidential election.
Five other states have adopted variations of Arizona's law.
Parts of those laws in Alabama, Georgia, Indiana, South Carolina and Utah are on hold pending the outcome of the Supreme Court case.
Racial profiling question
On Wednesday, hundreds of people protested for and against the law outside the court, where the hearing went on about 20 minutes longer than scheduled.
In questioning, liberal and conservative justices appeared sceptical about the government's challenge on one of the four provisions of the larger law.
For the federal government, Solicitor General Donald Verrilli argued that Arizona had pre-empted federal law on immigration by requiring police to check the immigration status on arrest.
He also argued that a rule requiring police to stop anyone suspected of being an undocumented immigrant was an over-reach.
Mr Verrilli said the law as a whole was inconsistent with federal immigration policy, arguing that the ID check would allow the state to engage in "mass incarceration" of undocumented immigrants.
The federal government is also challenging three other provisions:
making it a state crime to reside in Arizona without legal documentation
banning all undocumented immigrants from working in the state or applying for a job
allowing police to arrest a person believed to have committed a crime that could lead to deportation, even if the crime occurred in another state
A lower appeal court blocked all four provisions of the law.
Critics of SB1070 say it undercuts federal immigration rules and increases racial profiling.
But the law's proponents say it was enacted because of a lack of US immigration reform. Arizona declared a state of emergency in 2005 because of illegal immigration.
Arizona Governor Jan Brewer, who signed the bill into law, was on hand to hear the arguments.
On the court steps afterward, Ms Brewer told reporters she felt "very confident that we will get a favourable ruling in late June".