One Goh in US court over Oakland college shootings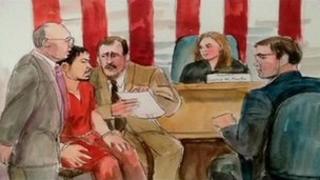 A man accused of killing seven people in a shooting rampage at a California university has appeared in court to deny the charges.
One Goh, 43, allegedly opened fire at Oikos University, a small Christian college in Oakland, on 2 April.
If found guilty, Mr Goh, a former nursing student at the institution, could face the death penalty.
The shootings were the deadliest attack on a US campus since a gunman killed 32 people at Virginia Tech in 2007.
Prosecutors at the court in Oakland say Mr Goh was angry about being denied a tuition fee refund, when he arrived at the college with a .45 caliber gun.
He was looking for a member of the administrative staff, but when he was unable to find her, he "essentially executed" seven people and wounded three others, it is claimed.
He then fled the scene in a car, but confessed to a security guard at a grocery store where he was arrested, police documents say.
He also admitted "kidnapping a woman and forcing her from her office into a classroom at gunpoint", the document says.
Refusing food
Shackled and wearing a red jumpsuit, Mr Goh, a US citizen originally from South Korea, appeared calm during the brief court hearing.
Accompanied by his attorney and an interpreter, he appeared thinner after having refused food for several weeks.
A spokesman for the Alameda County Sheriff's Office said he would not characterise his refusal to eat as a hunger strike, or as a suicide attempt.
"He has the right not to eat, we can't force him to eat", Sgt JD Nelson said.
Mr Goh previously lived in Virginia, and records show he was tens of thousands of dollars in debts.
He will return to court on 25 June for a pretrial hearing.
Prosecutors will then decide whether or not to seek the death penalty.