Seven in Florida hazing death surrender to police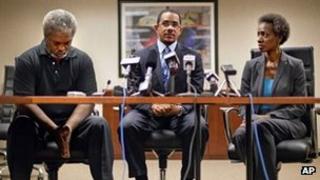 Seven of the 13 people facing charges over the death of a Florida university student who died in a hazing incident have turned themselves in.
All but two have been released on bail.
Robert Champion was allegedly beaten to death after the Florida A&M University marching band performed at a football game in November.
Mr Champion's parents have called for the university to disband the Marching 100 until the root of the hazing problem is addressed.
"You've got to clean house," Pam Champion told the Associated Press. Her husband, Robert Champion Sr added: "There are 400 other students who are also in the band, and the same thing can happen to them."
Hazing involves subjecting members of a group or fraternity to humiliation or abuse, often as part of an initiation.
Mr Champion was a drum major and member of the Florida Agricultural and Mechanical University's legendary marching band, the Marching 100.
He was bruised on his upper body, bleeding internally and went into shock, medical officials said.
'Inexcusable'
A family lawyer for the Champions said that he had "learned that there was a calculated conspiracy to cover up Robert Champion's murder".
"We have heard that alumni were communicating with students on that bus, telling them how to respond, what to say, what not to say in order to ensure that no one would be arrested and charged for murder," Christopher Chestnut told reporters. "That is simply inexcusable."
The seven who turned themselves in were Jessie Baskin, 20, Benjamin McNamee, 21, Rikki Wills, 24, Caleb Jackson, 23, Bryan Jones, 23, Harold Finley, 20, and Shawn Turner, 26.
They were charged on Wednesday with hazing resulting in death, a third-degree felony. Two others face misdemeanour charges.
Mr Finley and Mr Jackson are still in jail. Mr Finley did not meet bail conditions and Mr Jackson was prevented from leaving because he is already on probation for another charge.
On Wednesday, Florida State Attorney Lawson Lamar said the trial would not be open to the media and encouraged anyone with information about the case to come forward, saying further charges could be brought in future.
He also said that for those with no criminal record, a conviction could result in nearly six years in prison.
Hazing has a long history in Florida A&M's marching band and many others around the US.
The Marching 100 has performed at Super Bowls, the Grammys and presidential inaugurations.