Strauss-Kahn files $1m counter-claim against hotel maid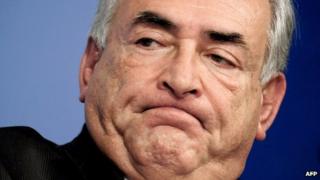 Former IMF chief Dominique Strauss-Kahn is counter-suing a hotel maid who accused him of sexual harassment, seeking $1m (£625,000) in damages.
Mr Strauss-Kahn was held in New York in May 2011 after Nafissatou Diallo alleged he had forced her into sex in his suite in Manhattan's Sofitel Hotel.
Prosecutors later dropped charges amid concerns about Ms Diallo's credibility.
She then opened a civil suit for undisclosed damages against the former French politician.
Mr Strauss-Kahn filed his counter-claim on Monday, one year after Ms Diallo's original allegation, and one day before Francois Hollande was sworn in as the Socialist president of France.
The allegation led Mr Strauss-Kahn to resign from his post at the IMF and was widely seen as having ruined his chance of becoming the socialist presidential candidate back in France.
He is now seeking compensation for the loss of his job, defamation and false imprisonment. His claim also demands further unspecified punitive damages as well as his legal fees.
'Misogynistic attitude'
In his legal filing Strauss-Kahn denies all wrong-doing and says the sexual encounter was consensual.
"Ms Diallo falsely and maliciously asserted that Mr Strauss-Kahn sexually assaulted her when she knew such allegation to be untrue," the claim states.
But accusations pertaining to his sexual conduct have continued to dog him since the maid's allegations were dismissed.
In March Mr Strauss-Kahn was placed under investigation by French authorities for links to a prostitution ring in the northern city of Lille.
One of Ms Diallo's lawyers said the counter-claim "personifies Strauss-Kahn's misogynistic attitude".
Both lawsuits have been filed at the Bronx Supreme Court in New York.