Canada child-killer Michael Rafferty jailed for life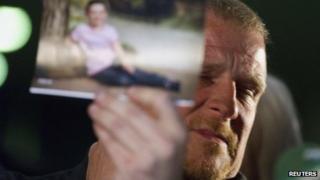 A child-killer whose crime horrified Canada has been branded a "monster" by a judge as he was jailed for life.
Michael Rafferty was convicted last week of murdering eight-year-old Victoria Stafford, who went missing near her Ontario school in April 2009.
The 31-year-old wept as the court heard emotional impact statements from his victim's family.
The murdered girl's 14-year-old brother, Daryn, said his heart had been "ripped out" by her loss.
Rafferty was sentenced at a court in London, Ontario, on Tuesday to life in prison with no chance of parole for 25 years.
Daryn Stafford's statement, read out by a lawyer, said: "Not one person can say they feel the same way as me. My sister was the only person I had to talk to.
"Someone that felt what I felt, cried when I cried, laughed when I laughed and now I feel alone, like the world is playing a sick trick on me, but it's not.
"This is my reality. No more fun times, just old memories. No more I love you's, just an empty spot in my heart."
As the statement was read out, many people in the courtroom were in tears.
Victoria's mother, Tara McDonald, told the court of "excruciating, unexplainable pain". The murdered girl's father, Rodney Stafford, said he would live with the horror for the rest of his life.
Sentencing Rafferty, Judge Thomas Heeney said: "You have snuffed out the life of a beautiful, talented, vivacious little girl. A 'tomboy diva' in the trustful innocence of childhood.
"And for what? So that you could gratify your twisted and deviant desire to have sex with a child. Only a monster could commit such an act of pure evil. You, sir, are a monster."
Finally, Rafferty addressed the court, telling Victoria's family he was "truly sorry". He admitted playing a role in the girl's disppearance but said he did not kill her, even though a jury found him guilty of the crime last Friday.
Video evidence withheld
During the 10-week trial, jurors heard testimony from Rafferty's accomplice and former lover, Terri-Lynne McClintic, 21.
She told how she lured the girl to Rafferty's car with the promise of showing her a dog.
Rafferty then drove 100km (62 miles) north of the girl's home in Woodstock, Ontario, raped her repeatedly and beat her to death with a hammer.
McClintic pleaded guilty to first-degree murder two years ago.
The jury in Rafferty's trial did not hear evidence that he had downloaded a movie of child torture and rape on to his computer, after a judge ruled police had obtained the computer's contents without a proper warrant.
After the verdict was announced, Mr Stafford stood outside the court with a photo of his daughter.
"We got justice!" he told reporters. "And it was all for this little girl right here."
Rafferty's defence lawyer says his client has not yet decided whether to appeal.