John Edwards' defence rests without his testimony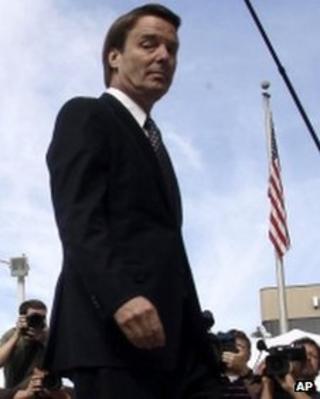 Defence lawyers in John Edwards' corruption trial have rested their case without calling the two-time presidential candidate to the stand.
Nor was Rielle Hunter, Mr Edwards' former mistress, summoned to testify.
Mr Edwards, 58, a former trial lawyer, denies using donations from campaign supporters to hide her pregnancy.
The defence ended by producing various documents designed to damage the credibility of prosecution witness, former Edwards aide Andrew Young.
They presented bank records that showed how Mr Young used most of the campaign cash at the heart of the case to build himself a $1.6m dream home.
Defence lawyers also told the trial in Greensboro, North Carolina that Mr Young and his wife had considered selling a sex tape they found that had been made by Mr Edwards and Ms Hunter.
The court heard that the Youngs did not end up selling the tape.
Mr Edwards, a former Democratic senator from North Carolina, faces up to 30 years in prison and $1.5m (£945,000) in fines if convicted of all charges.
Prosecutors say he worked with Mr Young to solicit almost a quarter of a million dollars from two supporters, then used the money to support Ms Hunter.
Mr Young falsely claimed the paternity of Ms Hunter's child to help his boss conceal the affair from his late cancer-stricken wife during his 2008 presidential bid.
Closing arguments in the trial are expected on Thursday with the jury expected to begin deliberations on Friday.