Court revokes bail for George Zimmerman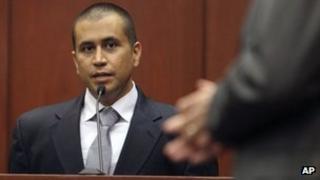 The US neighbourhood watchman charged with the murder of an unarmed black teenager has had his bail revoked and must surrender himself within 48 hours.
A Florida judge withdrew George Zimmerman's $150,000 (£98,000) bond after prosecutors argued he had misled the court about his finances.
Mr Zimmerman is charged with second-degree murder for shooting dead Trayvon Martin in February.
He maintains he shot the 17-year-old in self-defence.
Florida police did not arrest Mr Zimmerman for six weeks after the shooting.
Under the state's controversial "stand your ground" law the use of lethal force is allowed if a person feels seriously under threat.
The Florida judge previously ruled against raising his bail, asking for more information.
False testimony
He was released on 10% of the bail amount in late April. His destination, outside Florida, was kept secret in an effort to ensure his safety.
In revoking the bond on Friday, the judge said Mr Zimmerman had a responsibility to prevent his wife, who testified at one hearing, and his lawyer from making statements they did not know were false.
"Mr Zimmerman can't sit back a potted palm and let his wife testify falsely before the court when he knew well in advance of the hearing the amounts of money in controversy," Judge Kenneth Lester said.
The money in question was about $135,000 which prosecutors say was raised through donations to a website for Mr Zimmerman's legal defence.
His wife had testified at the bond hearing that the family had limited funds since she was a nursing student and Mr Zimmerman was not working.
The judge accepted the defence's explanation of their late surrender of a second passport for Mr Zimmerman.
Benjamin Crump, a lawyer for the Martin family, said that his clients believe that Mr Zimmerman should stay in jail until the trial.
"We fully expect that the special prosecutor will make George Zimmerman's credibility be front and centre in this entire case," Mr Crump said.
He added that if Mr Zimmerman would be willing to lie about his finances, the same could be true about the night Trayvon Martin was killed.
Both the prosecution and the defence argued against a motion by media companies to prevent information in the case from being sealed from the public record.
Lawyers on both sides of the case want to deny journalists' access to witness identities, crime scene photos, a 911 recording of the incident and other pieces of information.
The media organisations, including major Florida media companies and the Associated Press, argue that the requests to prevent public access to information is overly broad.
Both prosecution and defence lawyers argued that witnesses will be harassed if their names are released.