Quebec student protests: Tuition talks fall apart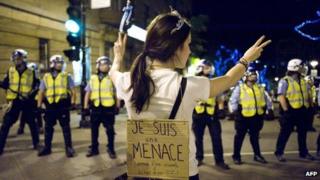 Talks between the Quebec government and student groups have broken down, prompting calls for more protests over proposed hikes to tuition fees.
The negotiations stalled when Quebec officials refused to agree to student demands for a tuition-fee freeze.
Students have also been angered by an emergency law limiting the right to protest. Two legal challenges have been filed against the law.
More than 2,500 have been arrested since protests began in February.
Student leaders said Quebec's education minister, Michelle Courchesne, had no intention of compromising.
"The minister of education said that for political reasons she could not accept a freeze on tuition fees," said Gabriel Nadeau-Dubois, spokesman for the student group Classe.
Mr Nadeau-Dubois called for protests on Saturday.
Martine Desjardins, another student leader, told the Globe and Mail : "They only wanted to sit us down for a public relations move, for a political move, not to negotiate."
She added that student leaders were "always ready to negotiate".
The government made two counter-offers of minor cuts to the tuition rises, including one which was $1 less than what they initially proposed in March 2011. Students mainted their proposal, which included reducing tax credits to post-secondary students, would not increase costs.
Quebec Premier Jean Charest called for calm, saying that "important efforts" had been made to resolve the dispute.
"We made important efforts. And we now see that we are at an impasse. So what happens now? We hope that in the coming weeks it will be a period of calm," he was quoted as saying in the Montreal Gazette .
While he denied a snap election will be called soon, Mr Charest said that when elections do happen - sometime within the next 18 months - the "silent majority" would answer the protesters "severely".