After Gabby Giffords: US watches Arizona election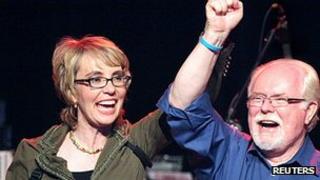 In a couple of anonymous looking rooms in Arizona's second city, Tucson, the Republican faithful are working the phones.
"Oh Mrs Hornbeckle," says one. "I'm a volunteer and I'm calling on behalf of Jesse Kelly for Congress…"
Half a dozen or so volunteers are crouched over phones working their way through long lists of potential voters, trying to persuade the undecided and make sure the committed get out and vote.
On the wall is a whiteboard with talking points scribbled on it in black marker - Lower Taxes, Stronger Economy, More Jobs.
Arizona's 8th Congressional District is generally acknowledged to be a tight race. The district's special election is a result of the retirement of Representative Gabby Giffords from Congress after she was shot in the head last year.
A former aide of Ms Giffords, Ron Barber, is the Democratic candidate. Normally few people would pay much attention to a single congressional seat. But this year things are different.
At this point in the election cycle, the parties are looking for that elusive elixir called momentum to help them later in the year.
And the Obama re-election campaign has let it be known that it sees Arizona as a place that it can win, a surprise to those that see the southwestern state as a solidly Republican kind of place.
"Either side is going to claim this for momentum going forward," says John Ellinwood, the campaign manager for Jesse Kelly.
"If one side loses here it's a bad sign for the whole state. Both sides know they have a chance of winning in this district and both sides want the win."
Ground game
Arizona should be a "red" state: there are more registered Republicans than there are Democrats. The state legislature, Governor Jan Brewer, and the state's two senators are Republican.
But there are a couple of wild cards.
There are a lot of independent voters; these break slightly towards the Democrats, says Kate Kenski, a professor of politics at the University of Arizona, though their turnout is often lower.
And then there is the Latino vote, which leans heavily towards the Democrats. Mobilising these two groups will be key to Democratic chances.
Which is why Democrats have high hopes for their Senate candidate this time around: Richard Carmona, a former combat medic, SWAT team leader and a Surgeon General who served under former President George W Bush. He's also of Puerto Rican descent.
On a warm summer's evening, Mr Carmona is at a fundraiser in a house in the suburbs of Tucson. As the shadows around the swimming pool lengthen, a comfortable looking crowd sips at drinks and nibbles at finger food whilst he makes his pitch.
But he doesn't play on his background, other than to stress how he can reach across party lines.
"Most of the people I know here, they care tremendously about their state and their country," he says. "They want solutions to their problems, they are rejecting the hyper partisanship, and hope we can get back to the center."
That kind of thing goes down well with the Democrats gathered round the pool. And there are a number of prominent local Republicans who have said that they are sick of the divisive debate in the state - debate driven by controversy over immigration, healthcare and the weak economy.
But it is noticeable how Arizona Republicans have fire in their bellies when it comes to the election, fire that many Democrats seem to lack.
Appealing to the centre is important - but getting the core vote out is critical too.
"We are a microcosm of what is going on in the US overall," Kate Kenski says. She agrees that whether you call it vigorous debate or huge division, it exists in Arizona.
"We've become a focus for the nation for seeing how rhetoric is carried out by both parties."
Dev Sethi, a 40-year-old lawyer who attended the fundraiser, has already decided how he'll vote in the Senate race. Richard Carmona will be his choice.
But he's not sure about who will get his vote in the presidential election.
"The real battleground is between the undecided or uncommitted voters," he says. "I'm still undecided. Obviously I've heard a lot from President Obama. I want to hear what Mitt Romney has to say."
Whoever wins Arizona will have to get their core vote out and win over the independents. It will not be an easy task. But then in Arizona, as in the rest of the world, if you can't ride two horses at the same time, you should get out of politics.