US commerce secretary John Bryson takes medical leave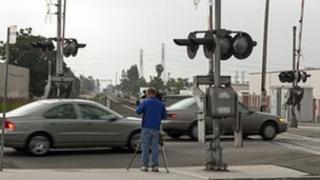 A US cabinet member involved in three car crashes in California has been given medical leave, his department has said.
Secretary of Commerce John Bryson was found unconscious at the wheel of his car after the series of collisions. He is said to have suffered a seizure.
Police described one incident as a hit-and-run, and suspect him of causing all of the crashes on Saturday.
He was treated for minor injuries and has now returned to Washington.
According to a statement released by his department, Mr Bryson told President Barack Obama on Monday that he was taking a medical leave "so that I can focus all of my attention on resolving the health issues that arose over the weekend".
He did not say how long for, but said he would not perform the functions and duties of the office "during the period of my illness".
Test results could be available as soon as Wednesday, the Associated Press reported.
During a phone call on Tuesday, Mr Obama "encouraged Secretary Bryson to focus his thoughts on his own health and on his own family," a White House spokesman said.
Mr Bryson's deputy Rebecca Blank will step up in his absence.
A department official told Associated Press that Mr Bryson had not previously suffered a seizure and that the commerce secretary had only a "limited recall of the events".
White House press secretary Jay Carney said in a statement that Mr Obama's thoughts were with Mr Bryson and his family.
He said Mr Bryson would undergo tests and evaluations during his leave of absence, but did not provide further details.
"Secretary Bryson assured the White House that the Commerce Department staff will not miss a beat in their work helping America's businesses compete," Mr Carney said.
Hospital stay
Police believe the first crash was caused by Mr Bryson, 68, when his Lexus struck a Buick that was waiting for a train to pass in the city of San Gabriel.
Mr Bryson spoke to the three male occupants then left the scene, apparently hitting the car again as he did so, a media release from San Gabriel police and the Los Angeles County Sheriff's Department said.
The Buick then followed Mr Bryson's Lexus and the occupants called for police assistance.
A few minutes later, Mr Bryson was involved in a collision with a Honda as he crossed into the nearby city of Rosemead, where he was found alone and unconscious behind the wheel.
He was alleged to have caused that crash as well, but investigations are at a preliminary stage, police said.
Police said there was no indication of alcohol or drug use.
There were no serious injuries to the passengers in the Buick or the Honda, and Mr Bryson was treated for non-life-threatening injuries, remaining in hospital overnight on Saturday.
Mr Bryson's Lexus and the Honda suffered minor damage, and all parties involved had been co-operative, police said.
Mr Bryson helped develop Edison International into a leading solar and wind power firm, and was confirmed as commerce secretary despite some conservative objections to his pro-environmental connections.