Sandusky trial: Mike McQueary 'saw sex abuse'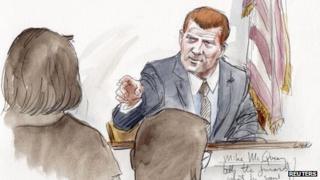 A key prosecution witness in the Jerry Sandusky sex abuse case told the court that he saw something "more than my brain could handle" in a locker room.
Mike McQueary said he had no doubt that he saw Mr Sandusky engaging in anal sex in a shower with a boy no more than 12 years old.
Mr Sandusky, 68, denies 52 criminal counts of abusing of 10 boys over 15 years at Penn State university.
A second accuser, still a teenager, also testified on Tuesday.
He told a Pennsylvania jury that Mr Sandusky kissed him, fondled him and engaged in oral sex with him during sleepovers in the basement of the Sandusky home.
Mr Sandusky served as assistant coach of Penn State's football team until his retirement in 1999, but had access to the campus for several years after.
His November arrest prompted a crisis at the university, which has a celebrated college football tradition.
'Something ridiculous'
Mr McQueary, a graduate assistant at the time, said he heard a "skin-on-skin smacking sound" after entering a campus locker room.
He told the jury that he saw Jerry Sandusky standing naked in a shower behind a boy, slowly moving his hips. Mr McQueary then slammed a locker door in warning and went up to his office, where he phoned his father for advice.
"I was making decisions on the fly," he said on Tuesday. "I picked up the phone and called my father to get advice from the person I trusted most in my life, because I just saw something ridiculous."
His testimony differed little from what he told an earlier hearing in December, with the exception that the alleged abuse took place in 2001, not 2002.
When asked by defence lawyers about the discrepancy between the ages he estimated the boy was, Mr McQueary said. "If [you] want to argue about 9, 10, 11, 12... the fact is he had sex with a minor, a boy."
Defence lawyers had anticipated Mr McQueary's testimony and addressed it in their opening statements.
"We don't think that he lied. What we think is that he saw something and made assumptions," Joe Amendola, Mr Sandusky's lawyer said on Monday.
The defence has also countered that it was not unusual for people Mr Sandusky knew to shower together - something he has admitted to doing.
"In Jerry's culture, growing up in his generation, where he grew up, he's going to tell you it was routine for individuals to get showers together," Mr Amendola said.
'I froze'
The second accuser, who is now 18, said he eventually told a school official about the alleged abuse by Mr Sandusky.
The young man told the jury that his school didn't believe him and responded by saying "He has a heart of gold, and he wouldn't do something like that".
However, the school referred him to a child-welfare agency, which found his account credible and set off the grand-jury investigation that would lead to the trial.
He described an early encounter with Mr Sandusky that ended in oral sex.
"I didn't know what to do with all the thoughts running through my head," he said. "I just kind of blacked out and didn't want it to happen. I froze."
Mr Amendola, asked the teenager why his testimony on Tuesday was more detailed then an earlier statement to the grand jury and to a school counsellor.
The young man, who graduated from high school last week, responded that it was an embarrassing subject, and that he didn't believe "anybody would want to talk about it".