Giffords aide Ron Barber wins Arizona Congress seat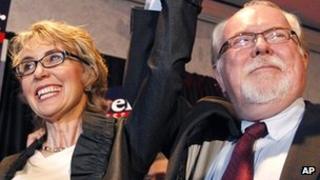 An aide to former Arizona Congresswoman Gabrielle Giffords - who was shot in the head last year - has been elected to the US Congress.
In a special election for Ms Giffords' seat, Democrat Ron Barber won 52% of the vote against 46% for his Republican opponent Jesse Kelly.
The poll drew much interest ahead of elections to the House of Representatives in November.
Ms Giffords was wounded by a gunman in January 2011.
Mr Barber, who was serving as her district director, was also seriously wounded in the shooting spree that killed six other people.
Mr Barber will have to face voters again in November to keep his seat.
The former Congresswoman announced her resignation earlier this year and publicly gave her backing to Mr Barber.
Message for November?
"Life takes unexpected turns and here we are, thanks to you," Mr Barber said, speaking at a hotel in Tucson, Arizona.
Ms Giffords appeared with Mr Barber after his victory on Tuesday night, and hugged him and kissed his forehead.
Meanwhile, in his concession speech, Mr Kelly said: "We executed the plan we wanted. The voters of southern Arizona did something different."
Mr Kelly had also been Ms Giffords' opponent in a competitive congressional race in 2010. He has pledged to compete for the seat again in November.
Mr Barber's victory has been hailed by some Democrats as a move that could presage further gains in the House of Representatives in November.
"This campaign previewed the message fight that will play out across the country in November: Democrats committed to protecting the middle class, Social Security and Medicare versus misleading Republican attacks on Obamacare and national Democrats," New York congressman Steve Israel and chairman of the Democratic Congressional Campaign Committee told the Associated Press.
But Texas congressman Pete Sessions, chairman of the National Republican Congressional Committee said this race was unique because of Ms Giffords' injury.
"No-one wanted this election to happen or to see Gabrielle Giffords step down from Congress, but Jesse ran a campaign focused on pro-growth policies that will lead to less government and a strong and vibrant economy," Mr Sessions told the AP.
The Democrats lost control of the House in 2010 and the Republicans now hold a majority of 240-192, with three vacancies including Ms Giffords' seat. Democrats, meanwhile, maintain a slim majority in the Senate.