US chimp-attack victim says state failed to heed warning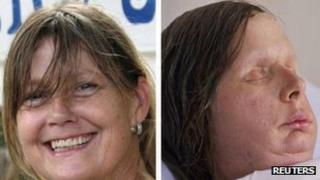 Lawyers for a woman who was disfigured in a chimpanzee attack in the US say officials failed to seize the animal despite knowing it was dangerous.
Charla Nash lost her nose, lips, hands and an eyelid in the attack in 2009 in Stamford, Connecticut.
Her lawyers have filed papers with the state claims commissioner seeking leave to pursue a $150m (£96m) civil suit.
A hearing has been planned for 10 August, where Ms Nash's lawyers will present their case for the suit.
Four months before the attack, an environmental official said in a memo that the animal was "a disaster waiting to happen", according to the Associated Press.
Connecticut's attorney general has said that the state cannot be held liable and that Ms Nash ought to direct her claims for compensation to the owners of the chimpanzee.
Ms Nash was a friend of the family that owned the animal.
She was trying to help them get the chimpanzee back into its cage after it had escaped, when it attacked her outside their home.