Viewpoint: US and Pakistan alliance is for good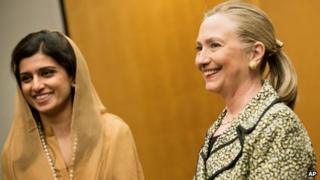 Last week, a carefully choreographed apology by Hillary Clinton resolved the latest crisis in relations between the US and Pakistan, an alliance she termed "challenging but essential".
The shovels may be down for the moment, but it remains to be seen whether the two countries can establish common cause going forward.
As late as 2010, Pakistan and the United States were engaged in a high-level strategic dialogue focused on building a long-term partnership.
Since then, the governments have spent most of their time on crisis management, from the Raymond Davis affair and the Osama Bin Laden raid and its aftermath to the Salala border incident in November that left 24 Pakistani soldiers dead.
After the friendly fire incident, Pakistan halted the resupply of Nato forces in Afghanistan through Pakistan's border crossings, forcing goods to travel through a northern distribution network that raised logistical costs for the United States and its allies by upwards of $100m (£64.5m) per month.
Trading blame
The Pakistani parliament reviewed the US relationship in light of the tragedy, and demanded among other things an apology before the ground lines of communication (Glocs) would reopen.
While the state department reportedly favoured an apology, the US military resisted, pointing to mistakes made on both sides.
Given ongoing Taliban and Haqqani attacks on Afghan and US forces, with at least perceived implicit support from Pakistan, the Obama administration expressed its regret, but not sorrow.
Not good enough.
"For us," said a Pakistani diplomat, "it was 2,000% about an apology."
There was no ability for the government to justify the reopening, and the managing of its chaotic politics without it.
For the Americans, it eventually became about the bottom line. The Gloc closure not only raised existing operational costs, but also complicated the Pentagon's ability to efficiently move forces and equipment out of Afghanistan later this year.
They reopened when US Secretary of State Hillary Clinton issued a carefully worded statement that "we are sorry for the losses suffered by the Pakistani military".
Mistakes were made, she said, without specifying who made them.
Given the complex and convoluted nature of the relationship, this qualifies as momentum.
Yes, the bar is low. Turning things around will be a long process, but there is a basis to start.
As a senior US official directly involved in the effort noted: "Both parties have something they want, a working relationship."
But there is so little trust and transparency on both sides - two essential ingredients to creating such a relationship.
Rebuilding trust
Not only did the United States withhold its discovery of Bin Laden from Pakistan prior to the Navy Seal raid, but as Jim Mann details in his book The Obamians, it added forces to be able to fight its way out of Pakistan - ostensibly an ally - if necessary.
Despite the furious reaction within Pakistan, there has been remarkably little outreach to the Pakistani people in the year since, despite the administration's emphasis on international engagement and strategic communication.
And vice versa.
Pakistan's rushed conviction of Dr Shakil Afridi, who provided some assistance to the CIA prior to the raid, incensed legislative leaders in Washington, resulting in the withholding of millions of dollars in aid.
And to the extent Pakistan has investigated how Bin Laden arrived in Abbottabad, who supported him and who else knew, they have not shared that information with the United States.
None of this will be easy.
The two countries have overlapping interests, but there are dramatically different views of the threat. The United States worries about violent extremists. Pakistan obsesses about India.
Trust cannot be rebuilt overnight, but can be nurtured over time through greater transparency.
Joined at hip
The United States said in April that it seeks with Pakistan a relationship that is enduring, strategic and more clearly defined. How can this occur?
The Obama administration needs to shift its priority from AfPak (its existing nickname for the challenge) to PakAf.
The two challenges are joined at the hip, but ultimately Pakistan is of far greater long-term strategic importance than whatever "good enough" results can be achieved in Afghanistan before 2014.
That said, increased co-operation with Pakistan on Afghanistan is possible and necessary. While the United States has long encouraged a role for Pakistan in an Afghan-led reconciliation process, this needs to be more formalised and more public.
It is unclear whether the Taliban is prepared to negotiate with the Karzai government or the US but no-one has more influence with the Taliban than Pakistan.
It is better to have Pakistan inside the process with a real role and stake in the outcome than pursuing its own interests from the outside.
US Secretary of Defence Leon Panetta recently acknowledged that the United States is "fighting a war in the Fata [Pakistani Federally Administered Tribal Areas]".
Unfortunately, he said this in Delhi, not Islamabad. This may be a war of necessity, but waging it without the explicit support and involvement of Pakistan elevates both costs and risks as the Salala tragedy underscores.
If Pakistan and the United States are to reach a point of "co-ordinated action" against a "common enemy", significant adjustments are needed. This needs to be not just an American war but Pakistan's as well.
Finally, the Obama administration needs to go back after elections in America this year and Pakistan next year and restart the strategic dialogue with Pakistan focused on the long-term.
Increased trade and investment will be more effective - and appreciated - than aid. US actions should reinforce rather than undercut civilian governance in Pakistan.
Responding in a meaningful way to the recent parliamentary report is a good place to start.
More than anything else, the United States must make a convincing argument in Pakistan and across the region that 2014 is not the end of its engagement, but a pivot point.
Unlike 20 years ago, the United States will be staying, not leaving.
History will not repeat itself.