Canada's TD Bank seeks to end Iranian account row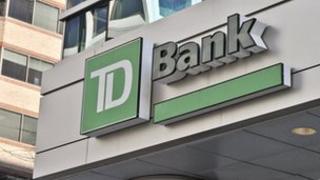 A Canadian bank says it will contact dozens of customers of Iranian origin customers whose accounts were closed amid a row over anti-Iran sanctions.
TD Bank will contact them to "obtain information" that could lead to the re-opening of the shuttered accounts, a spokesman said.
The bank previously said Canadian sanctions barred it from serving people who deal with Iran or who live there.
But the customers accused it of discrimination against Iranians.
Canadian banks are forbidden to provide financial services "to, or for the benefit of Iran, or any person in Iran", TD Bank wrote this spring in a letter to an Iranian-Canadian customer.
Those restrictions form part of a series of international sanctions intended to pressure Iran into giving up its nuclear programme or open it to international inspection.
More than a dozen Iranian-Canadian TD Bank customers told the BBC their checking and savings accounts were closed, credit cards and lines were revoked, and mortgages not renewed.
On Tuesday, TD spokesman Mohammed Nakhooda said some of the affected customers maintained a residence in Iran or held a job there, or had transferred cash to someone in Iran.
Mr Nakhooda said the bank realised the episode had been "distressing and disruptive" and that the bank would try to improve customer relations.
"While we are confident about the legality of our actions, we are improving the ways we communicate with our clients," he told the BBC.