Chick-fil-A wins Republican backing over gay marriage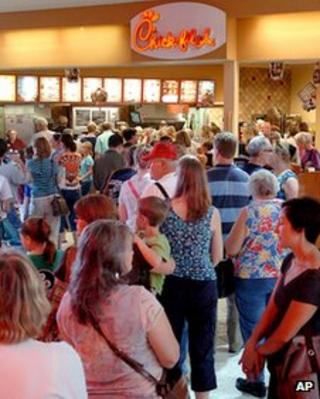 Two Republican politicians have urged people to eat at a US fast food chain, amid a row over gay marriage.
Crowds flocked to outlets in several states after ex-presidential candidates Rick Santorum and Mike Huckabee urged supporters of "traditional values" to eat at Chick-fil-A.
Boss Dan Cathy said in July he backed the "biblical definition of a family".
Mr Cathy also told the Baptist Press he thought those who supported gay marriage were "arrogant".
Chick-fil-A restaurants in cities across southern states of the US, where the majority of the chain's outlets are located, were reported to be bustling with customers who turned out in support of the chain on Wednesday.
The Houston Chronicle reported that branches in Houston, Texas, were packed and another restaurant in Atlanta, Georgia, was said to be so busy two employees were needed to direct traffic in the car park.
Customers posted videos online expressing solidarity with Chick-fil-A, and social media sites including Twitter hummed with contributions to the discussion.
One observer, Billy Hallowell, tweeted: "This country is so intriguing... and divided."
'Godly values'
The effort on Wednesday was labelled "Chick-fil-A Appreciation Day", in response to criticism directed at the restaurant chain in the wake of Mr Cathy's comments.
"The goal is simple: let's affirm a business that operates on Christian principles and whose executives are willing to take a stand for the godly values we espouse by simply showing up and eating at Chick-fil-A," said Mr Huckabee, a Baptist minister and former governor of the state of Arkansas.
Meanwhile, gay marriage supporters have called for what they are dubbing "Kiss Mor Chiks" on Friday, in which they hope same-sex couples will go to Chick-fil-A shops around the country and kiss each other in public.
The general manager of the only Chick-fil-A outlet in the north-eastern state of New Hampshire has become a sponsor of that state's gay pride festival, due to take place in August.
In a statement, Anthony Picolia said his restaurant "has gay employees and serves gay customers with honour, dignity and respect".
Some US politicians have also joined the fray. Days earlier, Chicago Mayor Rahm Emanuel said Chick-fil-A's values were "not Chicago values".
Boston Mayor Thomas Menino posted a letter on they city's Facebook page, dated 20 July, urging the head of the restaurant chain to "back out of your plans to locate in Boston".