Twitter subpoenaed by police on Mike Tyson threat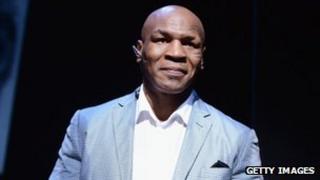 New York police have subpoenaed Twitter to force it to identify a user who threatened to shoot up Mike Tyson's one-man Broadway show.
The company initially refused a police request after officials learned one user had tweeted threats that referred to a recent mass shooting.
Mr Tyson's show, Undisputed Truth, opened last Thursday, and police have increased security at the theatre.
The user has made threats against other celebrities, ABC News reports.
Twitter has complied with the subpoena, the New York Police Department said on Tuesday evening.
In late July to early August, the unidentified person sent several tweets describing planning an attack on the theatre "step by step".
"Yo I'm serious people are gonna die just like in aurora," reads one tweet.
Twelve people were killed and 58 were injured on 20 July when a gunman opened fire inside a cinema at a midnight screening of a Batman movie in Aurora, Colorado.
In a later tweet, the account responded to another person's question, saying that they would act on the threat: "I'm in Florida rite now but it'll happen i promise I'm just finishing up my hit list."
Twitter initially told the NYPD via email that the account and tweets in question "does not appear to fall under those strict parameter[s]" to allow an emergency disclosure.
The company's guidelines call for "a good faith belief that there is an emergency involving the death or serious physical injury to a person" before giving out information to law enforcement.
"They said... there doesn't appear to be a threat," police spokesman Paul Browne said earlier on Tuesday. "We think our police judgment should trump that."