Profile: Paul Ryan, Republican vice-presidential candidate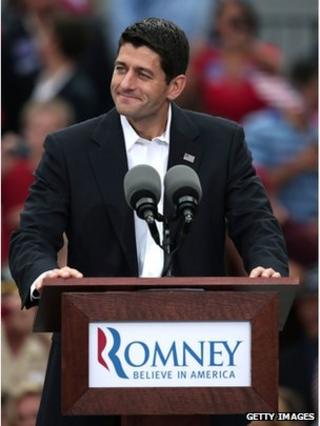 Paul Ryan, Republican US presidential candidate Mitt Romney's running mate, is a former altar boy and conservative policy wonk who appears as at ease with a hunting rifle as he is poring over the minutiae of federal budgets.
In choosing the Wisconsin congressman, the Romney campaign appears to have shifted the race from a referendum on President Barack Obama's handling of the economy into a wider debate on the future of the American government.
The choice of Mr Ryan is a bold gambit on Mr Romney's part.
The pick cheers the conservative base that has remained cool to Mr Romney. Mr Ryan is considered charismatic and youthful, an image some Republicans feel the Romney campaign is currently lacking.
But Mr Ryan is also seen as big target for the Democrats, because he and his policy proposals are so conservative they risk turning off independent voters and the pensioners who form a powerful electoral bloc.
Like Mr Romney, Mr Ryan lacks foreign policy experience. And at a boyish 42, he risks looking unprepared to assume the presidency should something happen to Mr Romney.
In recent years, Mr Ryan has emerged as a chief spokesman for a brand of ideologically charged fiscal conservatism that calls for slashing government spending to the bone while also cutting taxes.
Mr Ryan is already a 14-year veteran of Washington politics. He was elected to the House of Representatives from his home constituency in Wisconsin at the age of 28.
In his current role as chairman of the House Budget committee, he has helped lead efforts to cut government spending, casting himself as a fiscal hawk.
He is best known for his controversial alternative budget framework, produced to counter President Barack Obama's budgets in 2011 and 2012, which he titled the Path to Prosperity.
The plan would cut $6tn (£3.8tn) from the federal budget over a decade by cutting food aid, education spending and health programmes for the poor and elderly, and more.
It also lowers tax rates, halving corporate income tax.
Mr Ryan says the plan protects hard-working Americans, creates jobs and ensures economic freedom and growth. He rejects accusations it is an attack on the poor, insisting that reforming an inefficient system would help poorer Americans.
But independent analysts have challenged claims by Mr Ryan and his backers that his spending and tax cuts would put the country on a path to fiscal health.
Liberal critics say it would dramatically cut programmes Americans depend on while leaving the bloated defence budget intact.
Even former Republican House Speaker Newt Gingrich, one of the most conservative politicians in America, once called the proposal "right-wing social engineering".
A practising Catholic, Mr Ryan has cited Church teaching as an influence on his policy, with its emphasis on the importance of communities and families in tackling poverty.
But he was challenged on this view in an open letter by faculty members at the prestigious Catholic Georgetown University, who warned him the government must not "walk away from the most vulnerable".
Mr Obama and Democrats have leapt onto Mr Ryan's budget, saying it would gut federal government programmes needed to keep the middle class prosperous, while cutting taxes for wealthy Americans.
"My opponent and Congressman Ryan and their allies in Congress, they all believe that if we just get rid of more regulations on big corporations and we give more tax breaks to the wealthiest Americans, it will lead to jobs and prosperity for everybody else," Mr Obama said the day after Mr Ryan's selection.
Charisma and youth
While Mr Ryan is known primarily for his fiscal conservative policies, he also adheres to the Republican Party's strict social conservative platform.
He has voted against gay adoption, gay marriage and moves to liberalise abortion laws. In 2009 and 2011, he co-sponsored bills that would declare that life begins at conception and would grant foetuses the legal and constitutional rights of people.
He opposes gun control and voted to erect a barrier along the US border with Mexico.
He has in the past listed Ayn Rand as a strong personal influence, reportedly saying the US writer's work - which praises individualism over altruism - was required reading for his staff.
Aside from the risk posed by his hard-core conservative politics, Mr Ryan brings other potential drawbacks.
He spent almost his entire career working in Washington, beginning as an ambitious and energetic Senate staff member. He detracts from Mr Romney's attempt to run as a political outsider and creature of the private sector.
And he has broken from conservative orthodoxy in the past, both in his political career and his personal life, complicating his effort to woo conservatives with his ideological purity.
As a young man, his university tuition was paid in part by government social security benefits he received when his father passed away.
He voted for President George Bush Jr's drug programme for senior citizens, a massive public entitlement designed without a guaranteed funding stream. In late 2008, he voted for the bank bailout.
He was accused of hypocrisy after acknowledging that his office lobbied for federal stimulus money in 2009, despite his earlier denials.
Mr Ryan was born and reared in small-town Janesville, Wisconsin, the son of a lawyer.
He cites the experience of losing his father at the age of 16 - the third generation of Ryan men to die in their 50s - as helping to build his belief in self-reliance.
He is married to tax lawyer Janna Little. The couple have three children and still live in Janesville.