Wife of US man abducted in Pakistan pleads for release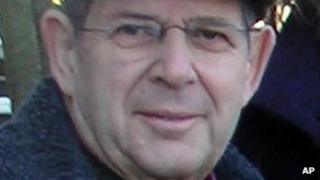 The wife of an American man abducted in Pakistan has pleaded for his safe return, on the first anniversary of his capture.
Warren Weinstein, 71, an aid expert, was kidnapped by armed men in the city of Lahore last August.
Elaine Weinstein said her husband suffers from a heart condition and she fears his health will deteriorate if he does not get medical help.
He was last seen in a video released by al-Qaeda's media arm in May.
In the footage, Mr Weinstein pleaded with President Barack Obama to meet his captors' demands, which include ending US military strikes in Pakistan and other countries.
The White House called for his immediate release, but said it would not negotiate with al-Qaeda.
In a statement, Mrs Weinstein, who lives in the US state of Maryland, said her husband had lived in Pakistan for eight years "so he could dedicate his time and energy to working with the people".
"Our grandchildren are growing and changing so fast," she said. "They miss their grandfather and ask for him every day. It is so difficult to explain why he can't be with them."
Mr Weinstein was the country director in Pakistan for JE Austin Associates, an American development contractor that advises Pakistani business and government sectors.
Just before the kidnapping, he had said to his staff he expected to wrap up his latest project and move out of Pakistan within days.