Pakistan army chief Ashfaq Parvez Kayani in unity plea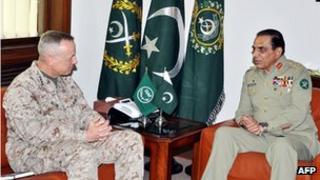 Pakistani army chief Gen Ashfaq Parvez Kayani has called for national unity "in the battle against terrorism".
In an Independence Day speech, he said no state could afford a parallel system of government.
On Monday, US Defence Secretary Leon Panetta said that Pakistan had assured US officials that it would attack militants in North Waziristan.
There have been long-standing US demands for a Pakistani ground offensive in the area.
The frontier tribal region - close to the Afghan border - is considered a hub of Taliban and al-Qaeda activity and has long been a source of tension between the two countries.
"We realise that the most difficult task for any army is to fight against its own people. But this happens as a last resort. Our real objective is to restore peace in these areas so that people can lead normal lives," Gen Kayani said.
"No state can afford a parallel system or a militant force.
"The fight against extremism and terrorism is our own war and we are right in fighting it. Let there be no doubt about it, otherwise we'll be divided and taken towards civil war."
The general made his address at the military academy in Kakul, close to where US special forces killed al-Qaeda leader Osama Bin Laden last year.
He said that "the war against extremism and terrorism" was not one that should be fought by the army alone.
"It is imperative that the entire nation is united in this context because the army can only be successful with the co-operation of the people."
On Monday Mr Panetta said that Gen Kayani had discussed the planned operation in North Waziristan during recent conversations with Gen John Allen, the top US commander in Afghanistan.
He said that while he did not know when the Pakistani operation would start, he understood it would be in the "near future" - and that the main target would be the Pakistani Taliban, rather than the al-Qaeda linked Haqqani network whose focus is the fight against Nato forces in Afghanistan.
"They've talked about it for a long time. Frankly, I'd lost hope that they were going do anything about it. But it does appear that they in fact are going to take that step," Mr Panetta said.
He said that relations with the Pakistani military had improved "a great deal" after the two sides fell out over a US air strike in November that killed 24 Pakistani soldiers near the Afghan border.