Aid groups in sanctions plea for Iran quake relief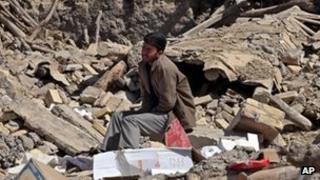 Ten US-Iranian aid organisations have asked the US Treasury to temporarily lift sanctions on Iran to allow money to be sent to earthquake victims.
The groups are asking for a licence that would allow relief groups to provide services in Iran, similar to a permit used after a 2003 earthquake.
Two major quakes in Iran on Saturday killed at least 300 and left widespread destruction with thousands injured.
The Iranian government has been criticised for its slow response.
In response, US Department of State spokeswoman Victoria Nuland said humanitarian aid was permitted under current sanctions.
"Americans wishing to provide humanitarian assistance to Iranians during this time may donate food and medicine without obtaining an Iranian transactions regulations license," she said.
The US has also announced its readiness to assist victims, should the Iranian government request it.
Iranian officials initially rejected help but said on Tuesday they would accept assistance.
Iranian charity organisations say sending food is not practical, given costs and time of shipping.
"We need to send cash, and the current sanctions make transfer of money to Iran very difficult," said Dr Peyman Raoofi, the head of the Child Foundation in Los Angeles.
The aid organisations and advocacy groups have also asked for additional public guidance to assure financial institutions "that they are permitted to process transactions on behalf of US persons related to earthquake-relief efforts in Iran".
The Department of the Treasury said that US financial institutions are permitted to process non-commercial, personal transfers to Iran, but that they "must be processed through a third-country financial institution before reaching Iran".
But this is not enough, the aid organisations say, given the need for urgent relief on the ground, and the reluctance of most US banks to process any payment meant for Iran.