Woman's head found in Canada park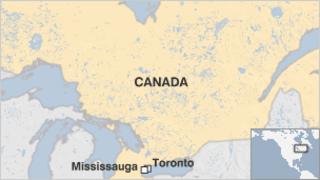 Police in Canada are investigating the discovery of a female head in a river near Toronto.
It comes a day after hikers nearby found a human foot - the toe nails of which had been painted in yellow polish.
Police recovered the head on Thursday in the Credit river at a park in Mississauga, Ontario.
They suspect the body parts come from the same person, although that has yet to be confirmed.
"Obviously, we consider it as foul play, and we are treating it as such," police spokesman Randy Cowan told reporters. "We'll be looking for the entire victim," he added.
The grim discoveries come a month after a human head was found in a Montreal park.
It belonged to a Chinese student who was killed and dismembered in May. Some of his other body parts were posted to schools and political parties.
Luka Magnotta, a former porn actor, was arrested in Berlin and deported to Canada to face trial for the student's murder.