Mitt Romney seeks to end debate on his tax rate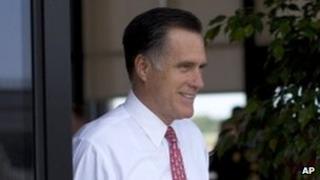 US Republican presidential candidate Mitt Romney has said he never paid less than 13% in taxes over the past 10 years, seeking to end public debate about his personal finances.
"I think the most recent year is 13.6% or something like that," he said.
In January, Mr Romney released his 2010 tax return, but has so far refused to show records from earlier years.
Democrats have questioned whether the former private equity high-flier has something to hide about his wealth.
Democratic Senate Majority Leader Harry Reid has accused Mr Romney of not paying taxes in some years - a claim denied by the Republican.
Mr Romney, a former Massachusetts governor, has an estimated net worth of about $250m (£159m).
The 2010 tax returned showed that he had paid nearly 14% in taxes - mostly on capital gains from investments.
The top tax rate for wages in America is 35%, but taxes on capital gains are lower.