Dallas aerial sprays to combat West Nile virus outbreak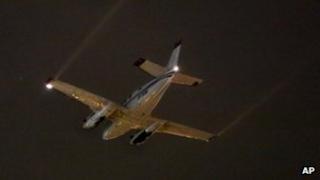 Dallas has sprayed insecticide over the city for the first time in nearly half a century, to combat a deadly outbreak of West Nile virus.
Dallas and other north Texas cities agreed to the rare measure to combat the nation's worst outbreak of the mosquito-borne infection this year.
The move has prompted debate among health officials over the effects of insecticidal mist blanketing the area.
Ten people have died and at least 230 cases have been reported in the state.
Almost half of all cases of West Nile virus in the US this year are in Texas.
If the pattern continues, 2012 could be the worst year for West Nile virus infections in the state's history.
'Unknown factor'
Analysts say the hot, dry weather conditions this year have created ideal circumstances for some mosquito species.
Standing water can become stagnant when not replenished by rain, while the heat speeds up the mosquito life cycle - and replicates the virus more quickly.
"I cannot have any more deaths on my conscience because we did not take action," Dallas Mayor Mike Rawlings said of the decision to spray the area with insecticide on Thursday night.
It is the first time the city has taken such a measure in more than 45 years.
Dr Roger Nasci, of the Centers for Disease Control and Prevention, said public fears may stem from "that unknown factor".
The Texas Department of Health said it would oversee the air-spraying, since the current situation is "totally different" from what the state usually deals with, Health Commissioner Dr David Lakey said.
"If it's nuisance mosquitoes, we ask the city or county to pay part of that. But in the midst of this disease outbreak, it's easier for us to go ahead and do it," Dr Lakey said.
On Thursday night, between two and five Beechcraft Twin Air two-engine planes were released for three hours of spraying. The cost for one covering is about $1m (£636,000).
The process might be repeated if officials think the first attempt did not kill enough mosquitoes.
The virus was first discovered in 1937 in Uganda. It is carried by birds and spread to humans by mosquitoes.
In extreme cases, symptoms can include high fever, loss of vision and paralysis. Milder manifestations can include headaches and skin rashes.
People at greater risk of a serious case of the illness are those over the age of 50, or people who already suffer from a major health problem.