Former US diplomat Ryan Crocker in drink-driving charge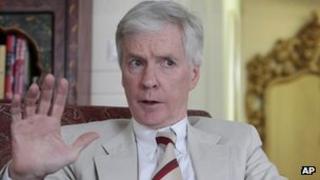 Ryan Crocker, the former US ambassador to Iraq and Afghanistan, has been charged over a hit-and-run accident and with drink-driving in the state of Washington.
Mr Crocker, 63, and from Washington state, was arrested on 14 August in Spokane Valley.
Police told local TV station KXLY that the ambassador tested twice over the blood alcohol limit when he was pulled over after clipping a lorry.
He pleaded not guilty to both charges.
His next court appearance is scheduled for 12 September.
Wrong turn lane
Washington police say Mr Crocker was in a turning lane at a junction when he turned the wrong way, crossed two lanes of traffic, hit the lorry but continued driving.
The passenger side of his vehicle was damaged in the incident but the driver of the lorry was not hurt, police said.
Mr Crocker announced he was retiring from his position in Afghanistan due to a serious health issue earlier this year. He ended his appointment in July.
He had previously come out of retirement after President Barack Obama nominated him to head diplomatic efforts in Kabul in April 2011.
He served as ambassador to Iraq from 2007 to 2009, following a 30-year diplomatic career.
Former President George W Bush awarded him the Presidential Medal of Freedom, the highest civilian honour, for his efforts as ambassador to Iraq.