Witnesses describe New York shooting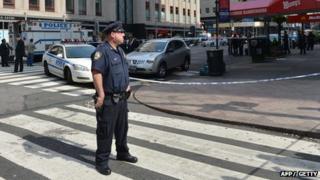 Panic erupted outside New York's Empire State Building on Friday when a gunman began to shoot people at random during rush-hour.
The incident took place near the corner of 34th Street and Fifth Avenue, a busy city intersection swarming with office workers and tourists.
Construction worker Chris Ogden was on a scaffold above one entrance to the building when the attack began.
He told the New York Daily News he saw a man wearing a business suit and carrying a briefcase shoot another man in the head.
"The guy went down," Mr Odgen said. "He took a second shot when he was down."
Mr Ogden said he then watched the gunman casually walk away.
"We were screaming from the top: 'It's the guy in the grey suit!'"
Eyewitness Sid Dinsay initially thought a piece of equipment had fallen when he spotted the construction workers running across the Empire State Building's scaffolding, the New York Post reported.
"Then I saw a guy lying there covered in blood," said Mr Dinsay. "People around him were crying, a police scooter was whizzing by. It was chaos."
"This is the last thing you are expecting to see walking to work - someone shot dead in broad daylight in Midtown.
"I am shocked - something like this is enough to rattle your nerves. My nerves are rattled right now."
'Scared'
Meanwhile Aliyah Imam told Fox News TV she was waiting at a red light when a woman standing next to her suddenly fell to the ground. She said the woman had been hit in the hip.
The gunman was "shooting indiscriminately at people", Ms Imam said.
Adrianne Lapar, who works in the Empire State Building, said the gunshots caused mayhem on the street.
"People started running, saying 'somebody has a gun', so I just ran the other way," the 27-year-old told Reuters news agency. "I was scared."
Dahlia Anister, an employee in an office near the Empire State Building, recalled the shots being fired in rapid succession.
"It was like pop, pop, pop; it was definitely in a bunch," she told Reuters.
A tourist from Austria, Raphael Riegler, said he heard the shots while lining up for tour boat tickets.
"Behind me the shooting started and a man in a blue jacket fell down," the 19-year-old told the New York Post.
"Another man was shot in the foot. He tried to run and fell at the bus stop. I've never seen anything like this."