New York police injured Empire State bystanders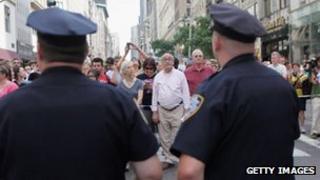 All nine people injured in Friday's Empire State Building shooting were hurt as a result of police fire, New York's police chief has confirmed.
During the incident, which was captured by surveillance cameras, police officers shot dead a gunman who had just killed a former work colleague.
Commissioner Ray Kelly said bystanders had been hit by bullets or fragments of bullets striking objects.
They suffered minor injuries and all are expected to survive.
Detectives are still trying to establish what drove the gunman, t-shirt designer Jeffrey Johnson, to ambush Steve Ercolino, vice-president of a clothing firm.
According to police, Johnson hid behind a car and killed Mr Ercolino with five shots as he arrived for work in Manhattan soon after 09:00 (13:00 GMT).
"It appears that all nine of the victims were struck either by fragments or by bullets fired by police," said Commissioner Kelly.
Video released by police shows the moment when officers challenge Johnson and open fire as he appears to draw a gun in a busy street.
"We have on tape the perpetrator pulled his gun out and tried to shoot at the cops," Mayor Michael Bloomberg said earlier.
"Whether he got off any bullets or not [is] to be determined."
Johnson lost his job last year and is believed to have held a grudge against Mr Ercolino.