Ex-boyfriend arrested in Toronto body parts case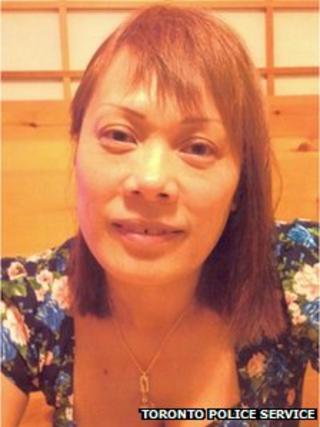 Canadian police have arrested the ex-boyfriend of a woman whose body parts were scattered around the Toronto area, on suspicion of her murder.
Chun Qi Jiang, 40, was arrested on Sunday and charged with second-degree murder.
Police confirmed last week that the body parts belonged to Guang Hua Liu, who was last seen by friends who dropped her off at work on 10 August.
Officials have classified the case as a domestic-related homicide.
Jiang is a construction worker and a Canadian citizen of Chinese descent, Peel Regional Police Inspector George Koekkoek said.
He had a four-year relationship with Liu, a single mother of three who owned a Toronto spa.
"He became a person of interest, or suspect, early on in the investigation," he told reporters, adding that police were still seeking help from the public.
"This investigation is ongoing and by no means complete," he said.
Officials had quickly ruled out any link with this case and the murder and dismemberment of a Chinese student in Montreal in May.
The main suspect in that case, Luka Magnotta, denies killing Jun Lin, and posting his body parts around Canada.