Chicago school strike agreement 'close'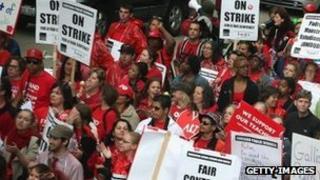 Chicago's school district and its teachers union have reached a "framework" to end a five-day strike, school officials say.
School board President David Vitale says the "heavy lifting" is over after lengthy talks over the past two days.
Officials are hopeful that about 350,000 students affected will be able to return to classes on Monday.
The strike began on Monday after the breakdown of negotiations over issues including pay and teacher evaluation.
But Chicago Teacher's Union (CTU) President Karen Lewis told reporters on Friday there had been "productive" conversations.
Ms Lewis declined to describe the talks in detail, but shortly after she entered a Friday afternoon meeting of union delegates, those inside were seen cheering, the Associated Press reported.
"We are still continuing to work out the details of the contract, but we are hopeful that we will have a complete agreement to present to the union's House of Delegates by Sunday," CTU lawyer Robert Bloch said.
Job security worries
As the strike began, teachers and the school district each said that while progress had been made on pay rise negotiations, there was still an impasse over how teachers were evaulated.
Union officials believe more than a quarter of Chicago's public school teachers could lose their jobs and benefits if their performance is evaluated on test scores, but the school district disputed that number.
CTU was also trying to win assurance that laid-off but qualified teachers would be offered other jobs in the district.
Chicago's public schools have a troubled history, with high numbers of children coming from low-income families and many performing poorly in standardised testing.
Chicago Mayor Rahm Emanuel, a former White House chief of staff for President Barack Obama, is attempting to revitalise city services and has backed school reforms.
He faced a $700m (£438m) school budget shortfall when he took office last year, and has pushed for the longer school day among other changes. His own children attend private schools in the city.