USS Cole accused Abd al-Rahim al-Nashiri in court row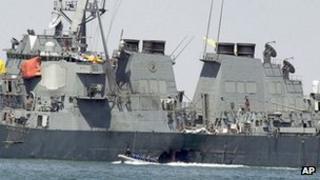 The military trial of a man accused in the USS Cole bombing case has been put on hold because of a dispute over whether he should appear in court.
Abd al-Rahim al-Nashiri boycotted the court in protest at belly restraints used when he is transported.
Mr al-Nashiri is charged with plotting the deadly attack on the US Navy destroyer in Yemen in October 2000.
A judge previously said he does not have to attend pre-trial hearings, but prosecutors are challenging the ruling.
He was captured in the US in 2002 and is one of several prisoners moved from secret CIA prison sites to Guantanamo Bay in 2006.
Defence lawyers are appearing before the tribunal in Guantanamo Bay, Cuba, to seek the dismissal of war crimes charges, arguing that the US was not at war at the time of the Cole bombing.
The attack killed 17 sailors and injured about 30 others.
Captain Stephen Reyes, a defence lawyer, argued that a defendant in a capital case could waive his right to be present to avoid hearing "over and over again how the US government tortured him."
Prosecutor Brigadier General Mark Martins said there was "legitimate interest in seeing someone face justice for serious crimes". Prosecutors at least want the 47-year-old questioned in open court to make sure there are no questions raised later about his absence from the court.
The judge heard arguments on the issue for more than 90 minutes on Tuesday before ruling that Mr al-Nashiri must return to court on Wednesday to ensure he understands his rights.