On the road with Romney campaign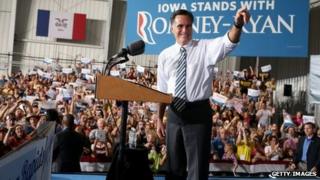 With less than two weeks to go until election day, both President Barack Obama and his Republican challenger Mitt Romney are in overdrive, maintaining relentless campaign schedules.
The two men (neither of whom are reported to drink coffee) leave behind them cheering, crowded venues after each rally and event - and both campaigns know that every vote in every swing state is needed.
Since the last of the three presidential debates concluded on Monday evening in Florida, President Obama has launched an eight-state marathon tour.
The Romney campaign also hit top gear this week. The BBC has been travelling this week with the Republican's team, as he criss-crosses crucial battleground states by plane and bus, ahead of election day on 6 November.
Dizzying pace
On Wednesday, the Republican candidate was at some point in each of the four US time-zones, beginning the day in Colorado, speaking at events in Nevada and Iowa and ending in Ohio.
The dizzying pace is a clear indicator of just how tight the race has become. To analyse national polling data on a daily basis at this point might require a college degree in mathematics, as there is very little daylight between the two contenders.
While giving slight variations of the same stump speech in each rally, the emphasis now for the former Massachusetts governor is on recruiting through those who are already leaning his way.
Go tell your neighbours and family to vote - if they are on "our side" - and vote early, he told a boisterous crowd in Reno, Nevada.
Let's get those Democrats and Independents voting for Romney this time, he urged at a rally in Iowa.
Find someone who voted for Mr Obama last time and tell them why they should vote for "us" this time, he told the 12,000 people who packed in to see him and his vice-presidential running mate, Representative Paul Ryan, speak in Colorado on Tuesday.
The venue, called Red Rocks, is famous in the music industry as a place to record live albums - and it reportedly cost $10,000 (£6,200) to rent for the night.
First-time Republican voter
While the Republican faithful can be counted on, it is voters like Fran Foreman in Reno that Mr Romney can thank in part for the neck-and-neck nature of the race at this point.
Ms Foreman says she had always been a Democrat, but "this will be the first time I vote Republican. I actually changed my party this year. I just don't think this country can handle another four years like the last four".
"We hear all this talk about the economy, but it has taken a toll on me personally, and lots of people I know.
"I think Mitt Romney has some really good ideas, so I just hope he'll get the chance to implement them - and that he actually goes through with what he says he'll do," she says, with a nervous smile on her face.
Again and again at Romney events, people of all ages say the same things attracted them to the Republican contender.
"Basically, what matters to me seems to matter to him," says Mike Travers, surrounded by his young family at the Iowa rally.
"He's gonna get rid of Obamacare and the country can't afford it. With his business experience, I think he can bring the country out of debt or at least stop borrowing so much.
"I can't help but feel that Obama just doesn't care about this country because what is really important is everyone having a good job."
Romney on intercom
On Thursday, the Romney campaign began a day of rallies across the vital swing state of Ohio.
The first event is in the city of Cincinnati, in Hamilton County, where Mr Obama came out on top in 2008 - the first Democrat to do so since Lyndon Johnson in 1964.
Later in the day, Mr Romney heads to Toledo, where for 30 years voters have picked the winner. In 2008, Mr Obama beat then Republican nominee John McCain 52% to 46% in that county, a margin that mirrored the national margin.
There is no time to pause or rest for anyone on the campaign trail at this point, including the Press that pour out of the back of "Air Romney" each time the wheels hit the tarmac.
Some of the journalists have been travelling with him for so long, they have rented out their homes and no longer have permanent addresses.
At the end of the third flight on Wednesday, after the plane landed in Ohio, a voice that was not the pilot's came over the intercom: it was Mr Romney, wishing a journalist a happy birthday.
She, and all on board, will find out in 13 days if that voice belongs to the next president of the United States.