Democrats retain Senate, Republicans House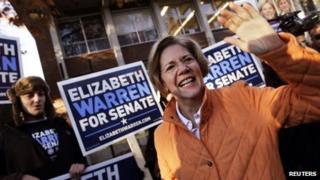 Democrats have strengthened their control over the 100-seat US Senate, with gains in closely watched races in Massachusetts and Indiana.
After a hard-fought election, they now hold a 55-45 majority in the Senate.
But Republicans will keep hold of the 435-seat House of Representatives with a solid majority.
The division in control of the two houses of Congress has led to partisan battles and legislative gridlock since the last mid-term elections in 2010.
The Democrats repulsed the expected challenge from the Republicans, gaining two seats and losing just one of the seats targeted by their opponents.
Controversial comments about rape made by two of the Republican candidates weakened their challenge.
Tea Party
In Missouri, Democratic incumbent Claire McCaskill had been considered vulnerable until Republican Todd Akin said women's bodies had ways of avoiding pregnancy in what he termed "legitimate rape".
And Republican Richard Mourdock, who said in a debate that pregnancy resulting from rape was "something God intended", was defeated in Indiana.
Sorry

We are experiencing technical difficulties

Please refresh the page.
Mr Mourdock, a favourite of the ultra-conservative Tea Party movement, lost to Democratic candidate Joe Donnelly.
However, Tea Party stalwart Ted Cruz has been elected in Texas, a seat already held by the Republicans. He becomes the third Hispanic member of the Senate.
In Massachusetts, Democrat Elizabeth Warren took the Senate seat once held by liberal icon Edward Kennedy, who died in 2009.
She unseated Scott Brown, who won Massachusetts for the Republicans after Kennedy's death.
Wisconsin has sent the first openly gay senator to Washington. Tammy Baldwin has held the state's Senate seat for the Democrats, defeating former state Governor Tommy Thompson.
Ms Warren and Ms Baldwin are among the five women elected to the Senate on Tuesday, bringing the number of US female senators to an all-time record of 20.
In Connecticut, Democrat Christopher Murphy replaces Senator Joe Lieberman, Al Gore's running mate in his ill-fated 2000 presidential bid. Mr Lieberman, now an independent, usually voted with the Democrats.
Mr Murphy defeated Republican candidate Linda McMahon, a professional wrestling executive who is reported to have spent $42m (£28m) on her election campaign.
An independent candidate in the north-eastern state of Maine has taken a Senate seat from the Republicans.
Angus King, a former state governor, has a record as a fiscal conservative but is seen as socially liberal.
He replaces retiring Republican Olympia Snowe, who stood down because of the partisan gridlock in Washington.
No change
Democrats returned senators in the other states targeted by Republicans, including New Mexico, Virginia, Ohio, Pennsylvania, Florida, Rhode Island, Maryland, West Virginia, Delaware and North Dakota.
Thirty-three of the 100 Senate seats were up for election.
With most results now in for the House of Representatives, there will be little if any change in the chamber.
Republicans will continue to hold a strong majority and are on target to finish close to the 242 seats they held.
David Kendall, a senior fellow at Third Way, a centrist think tank in Washington, said: "The upshot is that the voters are saying to President Obama and House Speaker John Boehner: 'Go back to the bargaining table; finish the deal.'"
Mr Kendall was referring to the intensive negotiations the two men held in 2011.
The talks ultimately collapsed but were aimed at bringing around $4tn in deficit reductions over the next 10 years.
That problem still confronts the re-elected president and the new Senate and House when they take office in January.