Indianapolis explosion prompts homicide investigation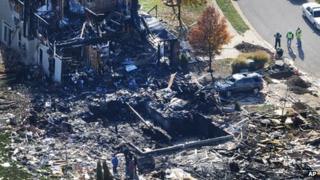 Police in the US state of Indiana have said they are treating as foul play an explosion that killed a married couple.
The huge blast in the city of Indianapolis on 10 November destroyed five homes and damaged dozens more.
Investigators said they were looking for a white van seen in the area on the day of the explosion.
Monday's announcement came as funerals were held for an electronics expert and his primary-school teacher wife, who died in the incident.
'Really scary'
John Dion Longworth, 34, and Jennifer Longworth, 36, lived next door to the house where the blast is thought to have occurred.
Indianapolis Homeland Security Director Gary Coons told reporters on Monday evening: "We are turning this into a criminal homicide investigation."
No arrests have been made and he did not say if there were any suspects.
Investigators had focused on faulty appliances as a possible cause for the suspected natural-gas explosion.
Doug Aldridge, who leads the neighbourhood Crime Watch, told the Associated Press: "It's kind of scary that someone might set off a gas explosion. It's really scary."