Black Elk rig fire: Third Filipino dies from injuries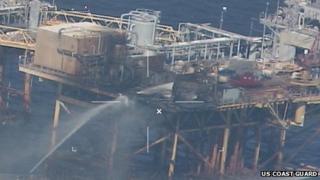 The death toll from last week's fire on a shallow-bed oil platform in the Gulf of Mexico has risen to three, officials say.
One of the men burned last week in the incident off the Louisiana coast succumbed to his injuries on Friday.
Avelino Tajonera, a Philippine welder, died in a New Orleans hospital, said the Philippines' envoy to the US.
US regulators have ordered the rig's owner, Black Elk Energy, to immediately review its offshore safety.
Mr Tajonera, 49, died shortly after his wife and three children arrived from Manila.
The fire broke out on 16 November when rig workers were welding a pipe on the platform's deck.
Two other Filipinos died in the incident.
One worker's body was recovered a day after the blaze and the search for another was called off after he was lost at sea.
Two dozen people were on the platform when the fire happened. Eleven were taken by helicopter to hospitals or for treatment on shore by emergency medical workers.
The Black Elk rig was drawing on an established well, unlike the Deepwater Horizon rig, which exploded in 2010 causing a huge leak. That platform was drilling an exploratory well in deep water.