Profile: Hillary Rodham Clinton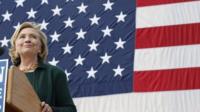 Hillary Rodham Clinton has served many roles in US politics - first lady, senator, secretary of state.
Now, speculation has turned to her long-held ambition to fill the ultimate role - US president.
Mrs Clinton, 67, served as President Barack Obama's secretary of state from the start of his administration in January 2009, stepping down shortly after he won re-election.
As top US diplomat, she was known for a punishing travel schedule and a person-to-person approach to diplomacy.
A leading international figure and Democratic politician, Mrs Clinton would vault to the front of the pack in the race for the party's 2016 presidential nomination, should she announce she was running. She previously lost the 2008 Democratic primary to Mr Obama.
But she has not made her intentions clear on another run at the White House.
And a scandal over her use of private email while secretary of state has pulled the not-yet candidate into the spotlight to explain herself.
Political First Lady
Hillary Diane Rodham was born in October 1947 in Chicago. In the 1960s she attended Wellesley College in Massachusetts, and became active in student politics.
She went on to Yale Law School, where she met Bill Clinton. They married in 1975. She remained politically active after Mr Clinton became governor of Arkansas in 1978.
When Mr Clinton campaigned for the presidency in 1992, he quipped he was offering voters two presidents "for the price of one".
As first lady, Mrs Clinton campaigned for women's rights and universal healthcare, raising her profile both at home and internationally.
However following her failure to deliver on a plan for universal health coverage - which was never even debated in Congress - many critics saw her as overambitious and politically naive.
From the mid-1990s - and throughout during Bill Clinton's second term - she became involved in the various scandals that marred his presidency.
There were congressional hearings and an investigation into the Whitewater affair, a failed real estate project in which the Clintons had invested.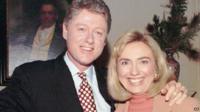 They were cleared of wrongdoing.
She also endured media attention over Mr Clinton's affairs - notably his relationship with White House intern Monica Lewinsky, which came to light in 1998.
Hillary Rodham Clinton developed a tough hide that helped her weather the personal and political turmoil.
She lashed out at her husband's critics, declaring in a 1998 interview that the Lewinsky scandal - which led to impeachment proceedings - was inspired by a "vast right-wing conspiracy".
In 2000, as the Clinton presidency was drawing to a close, she successfully ran for senator in New York State, positioning herself in the centre of the Democratic Party.
She voted for the invasion of Iraq in 2003 but distanced herself from the conduct of the conflict, and called for the withdrawal of US troops. She easily won re-election as a senator in 2006.
Presidential run
In 2008 she sought the Democratic nomination for the presidential election. However critics - including within her own party - saw her as a divisive figure for whom many Americans would never vote.
In the end, Barack Obama secured the nomination and went on to win the general election.
He named her as his secretary of state in an attempt to heal the rift within the Democratic party caused by a bruising primary campaign.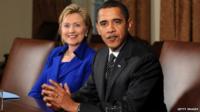 She became the first-ever first lady to serve in the US cabinet. During her four-year tenure, Mrs Clinton visited 112 countries - more than any previous secretary of state.
Mrs Clinton used her position to highlight women's rights and human rights. She also led the US response to the Arab Spring and the military intervention in Libya in 2011.
Benghazi attack
The state department came in for sustained criticism after an attack on a diplomatic compound in Benghazi in September 2012, in which the US ambassador was among those killed.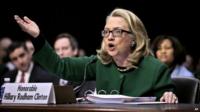 In a tense congressional hearing and one of her last public appearances as secretary, Mrs Clinton said she took responsibility for security failures at the outpost, but said she had not seen requests for more security beforehand.
She also lashed out at lawmakers who accused the Obama administration of misleading the public.
After leaving the state department, Mrs Clinton continued to make public appearances and speeches on a limited schedule, ramping up for the publication for her second memoir, Hard Choices, which described her time as secretary of state.
In September, Mrs Clinton made an appearance at a Democratic fundraiser in Iowa, a crucial early primary contest state. The US media, naturally, read the trip as an indication of her interest in the White House.