Obama recess appointments found unconstitutional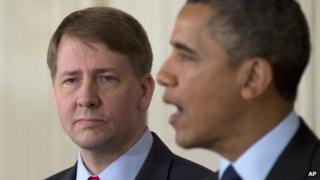 A US court has found three National Labor Relations Board appointments made by President Barack Obama during a 2012 Senate recess were unconstitutional.
White House spokesman Jay Carney said the decision was "novel and unprecedented".
The ruling said that the Senate was not technically in recess when the appointments to the NLRB were made.
Mr Obama also appointed the head of a new agency, the Consumer Financial Protection Bureau, at the same time.
But the White House argued Richard Cordray's nomination to the CFPB would not be affected by Friday's ruling.
'Sham' sessions
The court's decision will be welcomed by business groups that criticise NLRB decisions that make it easier for labour groups to organise new members.
"It contradicts 150 years of practice by Democratic and Republican administrations," Mr Carney said on Friday. "So we respectfully but strongly disagree with the rulings."
Several Republicans hailed the decision by the three conservative judges on the US Court of Appeals for the DC Circuit.
House Speaker John Boehner said it was "a victory for accountability in government", while Utah Senator Orrin Hatch said it would "go a long way toward restoring the constitutional separation of powers".
Republican lawmakers used the pro-forma sessions - as Democrats have done in the past - to prevent the president from using his recess appointments power.
The White House argued that the pro-forma sessions - some lasting less than a minute - were a sham.
On Friday the three-judge panel disagreed. "In short, we hold that 'the Recess' is limited to intersession recesses," they wrote in the opinion.
"Considering the text, history and structure of the constitution, these appointments were invalid from their inception."
The Department of Justice hinted that the administration would probably appeal the ruling.
If the decision stands, it could invalidate hundreds of board decisions made over the past year.