Boy Scouts of America considers end to gay-member ban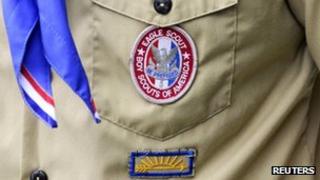 The Boys Scouts of America has said it may overturn its ban on gay members and leaders, and allow local units to choose their own policies on the issue.
The policy reversal could come once the national board meets next week.
Only last year, the Boys Scouts of America (BSA) reaffirmed its ban on gay members, after a two-year review.
In 2000, the organisation went to the US Supreme Court, saying its policy of "morally straight" conduct fell within its right to freedom of expression.
Deron Smith, a BSA spokesman, said that if the change under consideration came into effect, "the Boy Scouts would not, under any circumstances, dictate a position to units, members, or parents".
But Mr Smith said a change in their policy banning atheists was not being considered.
It would allow parents and sponsors to "choose a local unit which best meets the needs of their families", Mr Smith added.
In July, the Boy Scouts concluded that maintaining its long-standing policy against allowing gay members was "the best policy for the organisation".
But officials within the organisation said local chapters were urging the Boy Scouts to reconsider their decision.
At least two members of the organisation's national board, Jim Turley, chairman and chief executive of consulting firm Ernst and Young, and Randall Stephenson, head of the US telecoms company AT&T, have said they would support a change in policy.
The Gay and Lesbian Alliance Against Defamation welcomed the move.
"The Boy Scouts of America have heard from scouts, corporations and millions of Americans that discriminating against gay scouts and scout leaders is wrong," said the organisation's president, Herndon Graddick.
"Scouting is a valuable institution, and this change will only strengthen its core principles of fairness and respect."
During the 2012 presidential election, nominees from both major parties - Barack Obama and Mitt Romney - said the Boy Scouts should include gay members and leaders.
Boy Scouts of America, founded in 1910, said that at the end of 2011 it had more than one million adult members.