Caleb Moore dies after X-Games snowmobile crash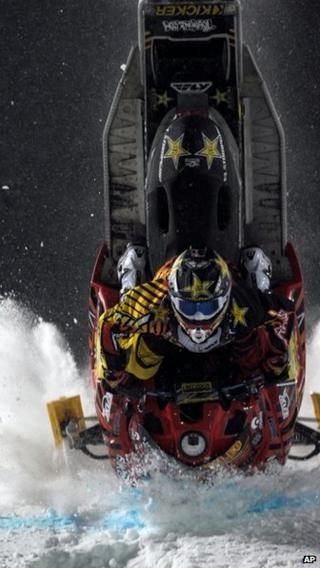 A freestyle snowmobile rider hurt in a crash at last week's Winter X Games in Colorado has died at the age of 25.
Caleb Moore was attempting a backflip when his snowmobile caught the edge of a landing area, sending him over the handlebars. The 450-lb (204-kg) snowmobile rolled over him.
In a statement, Moore's family said they were grateful for all the support they had received.
Moore began competing in the extreme sporting event just three years ago.
At the 2010 Winter X Games, he captured a bronze medal in freestyle and finished sixth in best trick, and had since won a total of four medals at the Games.
'Deeply saddened'
He also helped introduce his brother, Colten, to the sport.
Colten was injured in a separate accident on 24 January, the same night his brother crashed, suffering a separated pelvis.
While Caleb was originally brought to hospital for a concussion, he was flown to Grand Junction, Colorado for surgery after developing bleeding around the heart.
On Sunday, a family spokeswoman said the injury had led to a complication in his brain.
In a statement, X Games officials said they were "deeply saddened" by Moore's death and would conduct a review of the freestyle event.
"Still, when the world's best compete at the highest level in any sport, risks remain," they added. "Caleb was a four-time X Games medallist attempting a move he has landed several times previously."
The Denver Post reported it was the first time a competitor had died in the 17-year history of the X-Games