Ed Koch, former New York mayor, in intensive care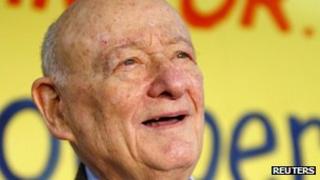 Former New York Mayor Ed Koch has been placed in intensive care for better monitoring of fluid in his lungs and legs, his spokesman has said.
The 88-year-old appears to be deficient in iron and his cardiologist wanted to watch him closely, he added.
Mr Koch was readmitted to New York-Presbyterian/Columbia hospital on Monday with a shortness of breath, two days after his last release.
This is Mr Koch's third stay in hospital in recent months.
He was treated for anaemia in September and was taken to hospital in December with a respiratory infection.
In 2009, Mr Koch was in hospital for five weeks, when he underwent quadruple bypass surgery and had a gall-bladder operation.
He was mayor of New York City for three terms, from 1978 to 1989, and has been given credit for saving the city from near-bankruptcy.
Mr Koch is remembered for frequently asking residents: "How'm I doing?"
Before that, Mr Koch was a US congressman from 1968 until he ran for city hall.
After leaving office, Mr Koch returned to practising law, presented radio shows, wrote newspaper columns, and on several occasions appeared in TV shows as himself.