World media pleased with new US secretary of state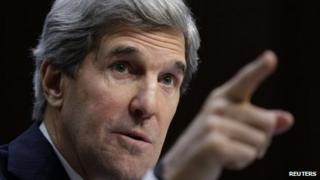 Media in China, Russia, Afghanistan and elsewhere strike an upbeat tone as John Kerry takes over from Hillary Clinton as the new US secretary of state. Some commentators, however, expect to see little change.
China
An editorial in Beijing's English-language daily Global Times says Mrs Clinton "dealt with China with a Cold War mentality, which deepened mutual strategic distrust". Mr Obama's new cabinet, on the other hand, "may adopt a more practical China policy and try to reduce provocations against China" although it will still attempt to "block China's rise".
Russia
The government-owned newspaper Rossiyskaya Gazeta says that John Kerry is a "good choice" to replace Hillary Clinton, according to sources in the Foreign Ministry. "In the opinion of Russian diplomats, a good-quality dialogue is perfectly possible with John Kerry," the paper says. On a similarly positive note, state-owned Rossiya 1 TV said on 30 January that John Kerry "has already stated that he wants to bring back confidence-based relations with Moscow".
Iran
The privately-owned Fars News Agency carried a report on 1 February which suggests that little change in US policy can be expected. The report says while Mrs Clinton's "double vision" due to a blood clot can be corrected, "no spectacles can correct the double vision in the foreign policy apparatus of the United States".
Afghanistan
A report broadcast on independent Tolo TV on 30 January said John Kerry's appointment "will make Pakistan take practical measures to destroy terrorist bases in that country". The TV said a number of Afghan analysts and politicians "have expressed optimism about the appointment of John Kerry" expected to prove "very effective in advancing the peace talks, addressing regional challenges and especially destroying the terrorists' main bases in Pakistan."
Turkey
A commentary by Utku Cakirozer in the newspaper Cumhuriyet says John Kerry and defence secretary nominee Chuck Hagel are Turkey's "last hope" for a US policy shift on Syria. Asking whether the US might back Turkey's call for weapons to be supplied to the Syrian opposition, the paper says that John Kerry and Chuck Hagel as well as the new advisors appointed by Mr Obama "are people who care about Turkey and who are very familiar with Turkey's role in the region. This team is Ankara's last hope."
Panama
Demetrio Olaciregui Q. in the newspaper La Estrella de Panama says John Kerry has been appointed "in circumstances in which no significant changes are expected in the policy of United States towards Latin America". The paper notes that, before the Senate's Foreign Relations Committee, Mr Kerry "did not provide details on how relations with Latin America should develop". Regarding Hillary Clinton's legacy, the paper says her position on Cuba was "not very flexible" in anticipation of her potential presidential candidacy in four years' time.
France
The French newspaper Le Figaro describes John Kerry as "an old friend of France, a speaker of perfect French and a Francophile who knows us from inside, something not all that common on the other side of the Atlantic", in short: a "Frenchman". However the daily Liberation warns that being able to speak French is a quality which "may be regarded as a flaw in the United States".
Azerbaijan
The Russian-language newspaper Ekho quotes the head of the Centre for Political Innovations and Technologies, Mubariz Ahmadoglu, as saying that John Kerry's appointment "will not worsen Azeri-American ties" and may even improve them. "US policy is aimed at careful cooperation with the South Caucasus countries," and regarding Azerbaijan, "Kerry will adhere to the policy followed by Hillary Clinton," Mr Ahmadoglu told the paper.
BBC Monitoring reports and analyses news from TV, radio, web and print media around the world. For more reports from BBC Monitoring, click here. You can follow BBC Monitoring on Twitter and Facebook.