Vancouver stabbings leave six in hospital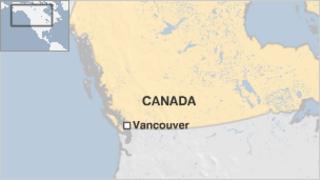 Vancouver police are investigating an apparently random stabbing attack inside an apartment building that left six people in hospital.
Officials confirmed a 33-year-old man had been arrested inside the building, but did not appear to be a resident.
"It was a very vicious, very serious attack," Sergeant Randy Fincham told reporters.
Victims ranged from their 20s to 60s and did not appear to be connected to each other.
The attack happened shortly before 19:00 local time on Thursday (03:00 GMT).
Sgt Fincham said: "We're looking at how he got into the building, or what he was doing in the building at that time."
Two other people, including a police officer, were treated for minor injuries.
Of the six people in hospital, five were described as being in a serious but stable condition and one was in very serious condition.