Sally Jewell named to head US Department of Interior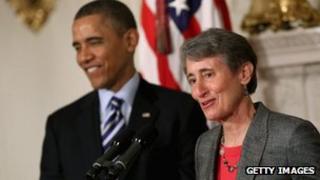 US President Barack Obama has nominated an outdoor recreation executive to lead the Department of the Interior.
Sally Jewell, chief executive of REI, is the first woman nominated to join Mr Obama's second-term cabinet, which has been criticised for lacking diversity.
The British-born businesswoman would replace outgoing Secretary Ken Salazar if confirmed by the Senate.
The 56-year-old emerged as the front-runner for the position in recent days, edging out better-known candidates.
Speaking at a White House ceremony on Wednesday, Mr Obama said Ms Jewell understood how to link conservation and commerce.
She was born in England before moving to Seattle as a child, becoming a US citizen.
'Hand in hand'
"She knows that there's no contradiction between being good stewards of the land and our economic progress - that, in fact, those two things need to go hand and hand," Mr Obama said.
In addition to her experience as the head of REI and a supporter of conservation, Ms Jewell was also an oil field engineer.
Campaign finance records show she made a $5,000 (£3,190) contribution to Mr Obama's re-election effort.
The Department of the Interior oversees more than 500m acres (202m hectares) of national parks and other public lands.
It is responsible for 1bn acres offshore. The department manages energy, mining projects and recreation and provides services to 566 officially recognised Indian tribes.
In the last four years, 6m acres of public land were leased for oil and gas while 2.6m acres were permanently protected, the Bureau of Land Management said.
Former Washington Governor Chris Gregoire and former Colorado Governor Bill Ritter had been discussed as possible candidates for the post, correspondents say.