Super Bowl power outage explained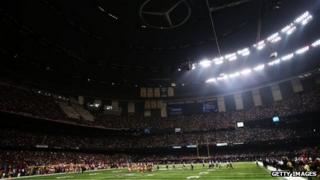 A New Orleans power firm says the Super Bowl blackout was caused by a faulty device designed to prevent failure of the cables leading to the Superdome.
Entergy New Orleans say the device, called a relay, had been installed between the company's incoming power line and the lines into the stadium.
The power failure shut down the lights in half of the stadium for 34 minutes on Sunday, halting play.
Entergy said the relay functioned fine during earlier events.
Officials said the device has been removed and replacement equipment would be installed.