Hadiya Pendleton: Two charged in Chicago teen's death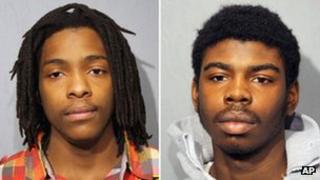 Chicago police have charged two men with the murder of a 15-year-old girl who performed at President Barack Obama's inauguration.
Michael Ward, 18, and Kenneth Williams, 20, have backgrounds in a violent Chicago street gang, police said.
They attacked Hadiya Pendleton, a popular band majorette, and her friends in a park after mistaking them for members of a rival gang, police said.
First Lady Michelle Obama attended Hadiya's funeral on Saturday.
Hadiya's parents will be sitting with Mrs Obama at the president's State of the Union address on Tuesday.
Among other dignitaries at Hadiya's funeral service were Chicago Mayor Rahm Emanuel, Illinois Governor Pat Quinn, US Education Secretary Arne Duncan and the Rev Jesse Jackson.
Gun law plea
The two accused were taken into custody on Saturday night as they made their way to a strip club, hours after Hadiya's funeral.
In a press conference on Monday evening, Chicago Police Superintendent Garry McCarthy said Michael Ward had confessed to shooting the teenager, while acknowledging she was not the intended target.
Mr Williams drove the car, he said.
They have been charged with first-degree murder, two counts of attempted murder and aggravated battery with a firearm.
The attack, which came as the teenagers huddled under a tree in the rain, was intended in retaliation for a July attack against Mr Williams, who declined to prosecute a suspect in that shooting, Mr McCarthy said.
Mr McCarthy also made an emotional plea for mandatory minimum prison sentences for possession of an illegal firearm.
He said Hadiya would not have died if they were in place, because Mr Ward pleaded guilty to illegal gun possession in January 2012 but served no jail time.
Investigators received no usable tips from the community, despite a $40,000 (£25,000) reward, Mr McCarthy said.
Instead, an initial break in the case came when investigators matched the description of the vehicle seen leaving the shooting scene with a record of a car stopped by police earlier on the day of the attack, Mr McCarthy said.
Mr Ward was a passenger in that car, he said.
Pendleton's death highlighted the spiralling homicide rate in the city of Chicago, which recorded 506 murders last year, and has contributed to a national debate about gun violence.
"Hadiya knew the torment of gangs... and she spoke out against it," Mr McCarthy said.
She was shot and killed in a park about a mile (1.6km) from President Barack Obama's house.
The Chicago Tribune reported that there had been at least three other shootings within blocks of the park where Hadiya was shot so far this year.