Delaware gunman Matusiewicz was victim's ex-father-in-law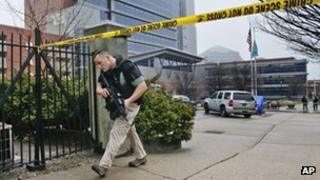 A man who shot and killed two women at a Delaware courthouse was the father of a man involved in a custody battle with one of the dead, police have said.
Thomas Matusiewicz, 68, shot himself in the head after exchanging gunfire with police during the Monday attack.
Christine Belford, 39, and friend Laura Mulford, 47, were at the courthouse for a child support hearing for Belford's ex-husband, David Matusiewicz.
Two police officers were shot in the attack but were expected to survive.
The city's mayor initially said the attacker was Belford's estranged husband.
The younger Matusiewicz, a former optometrist, pleaded guilty in 2009 to bank fraud and international parental kidnapping charges after fleeing to Nicaragua in a motor home with his mother and three young daughters, federal court records show.
Before absconding he shared custody of the children with Belford after their divorce, and had told her he and the children were going to Disney World in Florida for two weeks.
On Monday, Belford and her friend had arrived at the courthouse to attend a hearing for David Matusiewicz, who was behind on child support payments, police said.
State police spokesman Sgt Paul Shavack said Matusiewicz's father Thomas Matusiewicz used a semi-automatic pistol in the attack, which began on Monday shortly after 08:00 local time (13:00 GMT).
Sgt Shavack said he opened fire before passing through lobby metal detectors.
David Matusiewicz was being held on Tuesday on charges he failed to provide child support and had lied about his whereabouts to probation officials. He was also being questioned by police.