Officer dies in shoot-out with 'fugitive cop Dorner'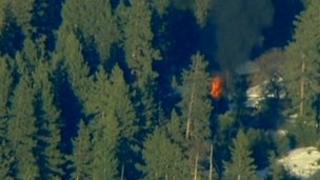 One of the two officers suspected shot by a former Los Angeles policeman holed up in a California mountain cabin has died of his injuries, US officials say.
They say that another officer underwent surgery for his wounds but is expected to survive.
TV pictures showed smoke and flames rising from the cabin in the Big Bear region, as a police Swat team went in.
The gunman is believed to be Christopher Dorner, 33. He was earlier accused of three murders.
He has reportedly sworn revenge on police officers he blamed for his sacking in 2008.
Around 200 law enforcement officers are surrounding the cabin at Seven Oaks, south of Big Bear in the San Bernardino mountains.
Manifesto
Cindy Bachman of San Bernardino County Sheriff's Department confirmed at a news conference that one of the wounded sheriff's deputies had died in an exchange of fire earlier on Tuesday afternoon.
"He was pronounced dead in hospital," she said.
She added: "We don't know if he (the suspect) is inside (the cabin). The entire area is surrounded. We have plenty of air support."
Tear gas was reportedly fired into the cabin, which was thought to contain ammunition.
The spokeswoman confirmed that there was gunfire before the cabin was seen on fire. She said she believed there was no further shots fired after that.
The suspect tried to leave the cabin through the back door, but was pushed back inside, unconfirmed reports say.
The authorities are stressing that the suspect has not been positively identified as Christopher Dorner.
Police were alerted after a man matching Mr Dorner's description reportedly broke into a house and tied two people up before making off in a stolen vehicle.
The suspect then abandoned the car, ran into the forest and barricaded himself inside the cabin.
The exchange of gunfire occurred at about 12:45 local time (20:45 GMT).
The search moved to the area of Big Bear Lake, a ski resort 80 miles (130km) east of Los Angeles, last Thursday after the suspect's burned-out truck was found there.
LA officials have offered a $1m (£630,000) reward for information leading to his arrest.
The authorities earlier said that the former officer with Los Angeles Police Department (LAPD) is suspected of killing three people, including a policeman.
Police have been protecting about 50 families, many belonging to former LAPD colleagues, against whom Mr Dorner has vowed revenge for allegedly ruining his career.
In an online manifesto, Mr Dorner, a former US Navy reservist, suggested that racism was rife in the LAPD.